No doubt patient engagement in dentistry and healthcare in general has been forced to evolve. The evolution has driven innovation around the opportunity for shared decision-making solutions.
Props to emerging telehealth and teledentistry platforms. New lines of communication have opened between patients and you, as a provider.
Virtual care access is creating more opportunity for patients to take control of their oral health.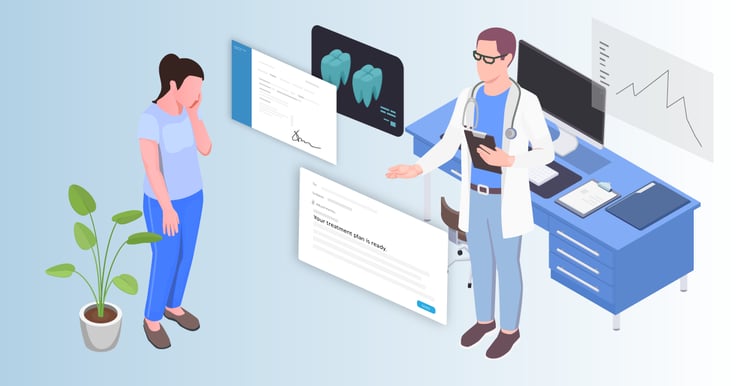 Why shared decision-making is a good kind of control
Teledentistry and telehealth as a whole encourage patients to get proactive about their care. That includes being an active participant in the decision-making process.
Here's a good definition of shared decision-making:
"An approach where health professionals and patients make decisions together, using the best available evidence about the likely benefits and harms of each option, and where patients are supported to arrive at informed preferences." [1]
To clarify, shared decision-making creates opportunity for: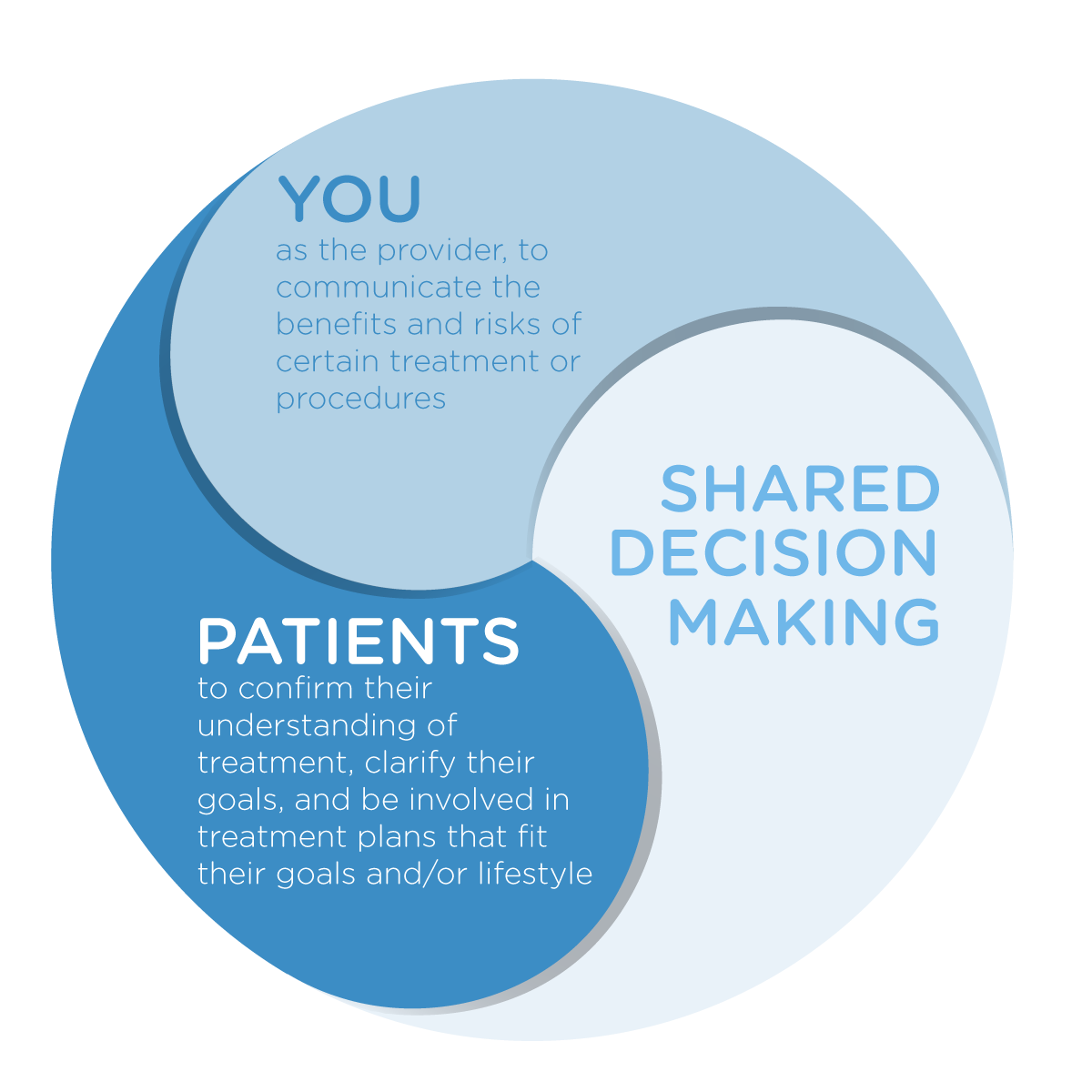 You, as the provider, to communicate the benefits and risks of certain treatment or procedures
Your patients to confirm their understanding of treatment, clarify their goals, and be involved in treatment plans that fit their goals and/or lifestyle
Conversation is at the core of the shared decision-making process. Often the communication will require a more frontal discussion of weighing risks and benefits.
The good thing is that the conversation can be more collaborative via a virtual environment. Ultimately it's about allowing your patient the "air" to arrive at a treatment decision and be more comfortable doing so.
Patients essentially want three things from you as their provider:
To be heard
Unfiltered truth about their condition or diagnosis
Useful information about the benefits and risks associated with treatment

How shared decision-making works on a teledentistry or telehealth platform
Patients are becoming more accustomed to care integration. Meaning, their healthcare decisions will often involve more than one provider.
"Less than 20% of people wanted their provider to offer only the options that he or she feels are right for the patient." [2]
Shared decision-making implies that there are on occasion multiple providers involved in the discussion. It's a big-picture approach to your patient's comprehensive health scenario.
And teledentistry or telehealth platform makes the collaboration possible.
Here's how it works:
Prepare to engage your patients
Use a checklist to assure all

pre-appointment talking-points

are clear to you (and your patient)

Create a care-agenda that's specific to the patient's health history and current conditions

Map out (in advance) how you'll start and manage the conversation (including all involved and their contribution to the discussion)

Confirm your patient's relationship with additional telehealth/teledentistry services since you've previously communicated with them

Determine the necessity of sharing treatment plans with your patient's additional providers
Prepare to enhance your ongoing opportunities using teledentistry for shared decision-making
Offer new patient pre-registration prior to the virtual visit

Designate team members to assist with visit flow and manage any potential interruptions or participant hand-offs

Inform your team about visit protocols

during your daily team huddles

Reference the pre-appointment checklist to assure everyone involved is on-the-same-page

Encourage patient and participating provider feedback to improve communication during future teledentistry/telehealth visits
A seamless patient experience keeps their health decisions in focus. Advanced preparation helps assure that all technical and provider connections are on-point for the patient.
Prepare to elevate your continuity of care standards
The best approach to shared decision-making using teledentistry and telehealth services is honoring continuity of care. And remember that your standards can be disrupted if you use less than optimum virtual methods.
For example, cobbling together an online portal or minimizing communication can de-value collaboration. Or it could hinder the shared experience altogether.
Elevating your continuity of care standards through teledentistry or telehealth services should:
Reduce or eliminates errors

Avoid over-treatment potential

Prevent information conflict between providers and patients and their providers
A dedicated teledentistry or telehealth platform provides the best environment for shared decision-making between you, your patients, and additional healthcare providers.
Access the following resources for more in-depth insights into how teledentistry (specifically) is improving care standards and creating a platform for effective shared decision-making:
Teledentistry: Where We Are Now and Where We are Going
Key Teledentistry Takeaways for 2021 and Beyond
Get a personalized demo of Teledentix!
[1] Elwyn G, Frosch D, Thomson R, et al. Shared decision making: a model for clinical
practice. J Gen Intern Med 2012;27:1361–7. doi:10.1007/s11606-012-2077-6
[2] link to resourc