A new and innovative concept can do wonders for your team. That applies to how you train your staff to identify teledentistry visits as a part of your dental practice workflow.
Begin by helping your team understand that teledentistry isn't a specific service in itself. Rather it's a method for providing dental care to your patients.
Perhaps you're new to teledentistry and trying to wrap your hands around how it can streamline your staff workflows and serve your patients. If so, this ADA (American Dental Association) definition will help:
"Teledentistry provides the means for a patient to receive services when the patient is in one physical location and the dentist or other oral health or general health care practitioner overseeing the delivery of those services is in another location."
The same "guidelines" apply
Clarify with your team that a teledentistry visit or consult is an extension of your fixed dental facility. Secure, HIPAA compliance regulations apply to a virtual appointment as to an in-office appointment.
Coding and billing for teledentistry is another area that requires alignment. Inform your team that like proper coding for other dental procedures, a teledentistry visit must be properly coded as well.
Again, the ADA's coding guidelines will assist your staff with how to bill for teledentistry.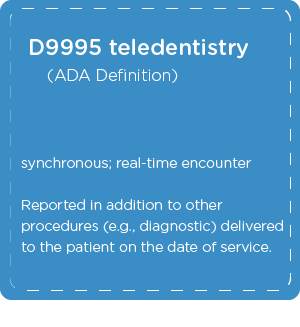 Synchronous teledentistry (CDT code D9995) applies to real-time video consults between you (the dentist or team member) and your patient.

Asynchronous teledentistry

(CDT code D9996) involves the care you/a team member would provide at a specific location. Any diagnostic information captured via video can be used for treatment diagnosis and/or referrals at a later time.
Be mindful that teledentistry virtual visits are subject to the same guidelines as an in-office, face to face visit. Train your team in those fundamental protocols.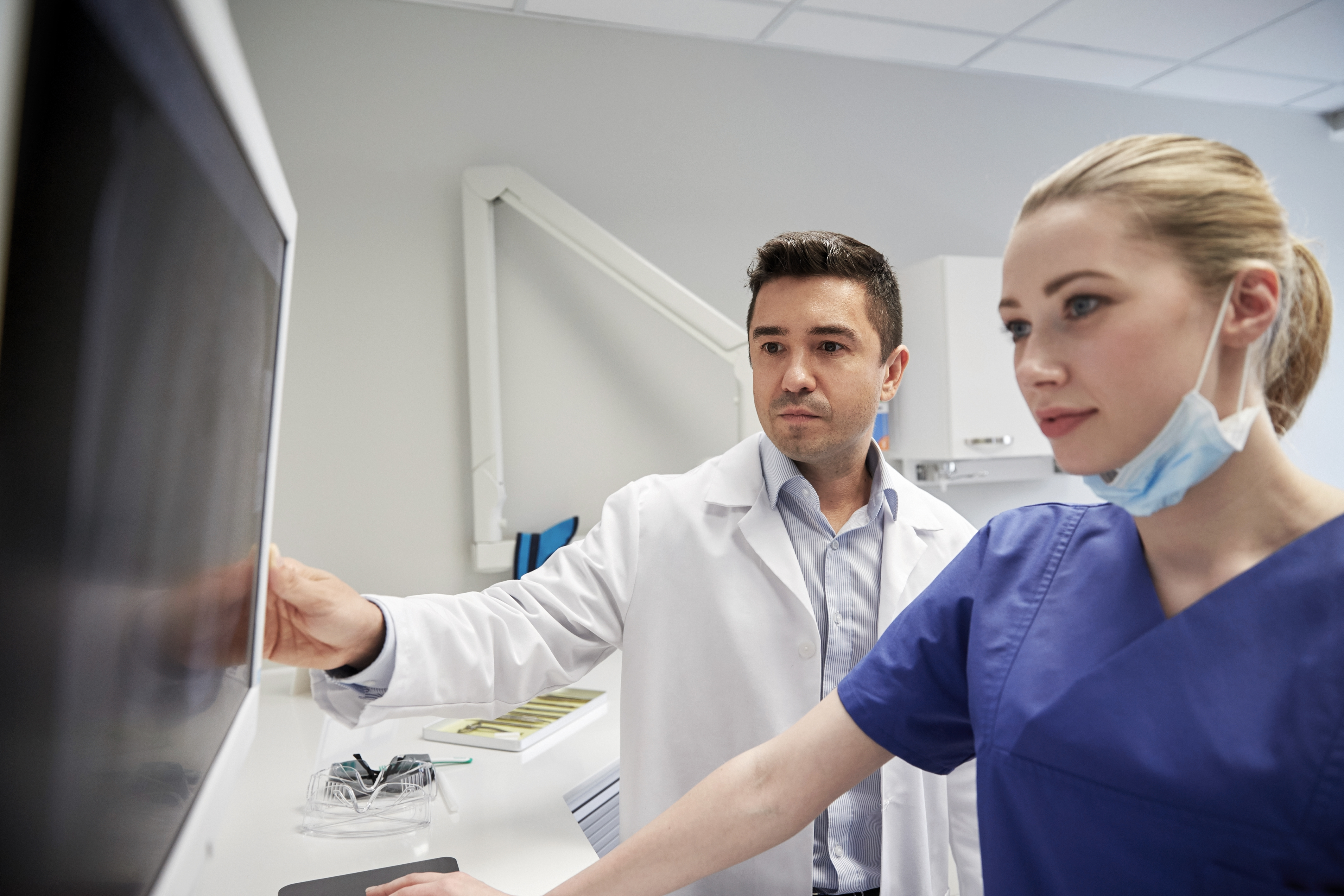 How to train your staff to identify teledentistry visits and leverage its advantages and uses for patient care
Train your staff in the advantages of teledentistry to your patient care
Safety protocols
A teledentistry visit provides a safe, comfortable alternative for patients. Certain circumstances enhance the opportunities to utilize a virtual environment.
Ongoing COVID-19 scenarios

Patients with immunocompromised health issues
Cost-efficiency
COVID-19 has increased the awareness and use of PPE. Shortages and supply costs have made an impact on dental providers - perhaps you.
Teledentistry provides a virtual option for patient interaction without utilizing in-person resources such as PPE, etc. The financial savings can help you and your team during a particularly "lean" season.
Mobile accessibility to dentistry
Time remains a consistent factor for patients and their access to dentistry. Scheduling and production are impacted the more your patients delay or postpone treatment.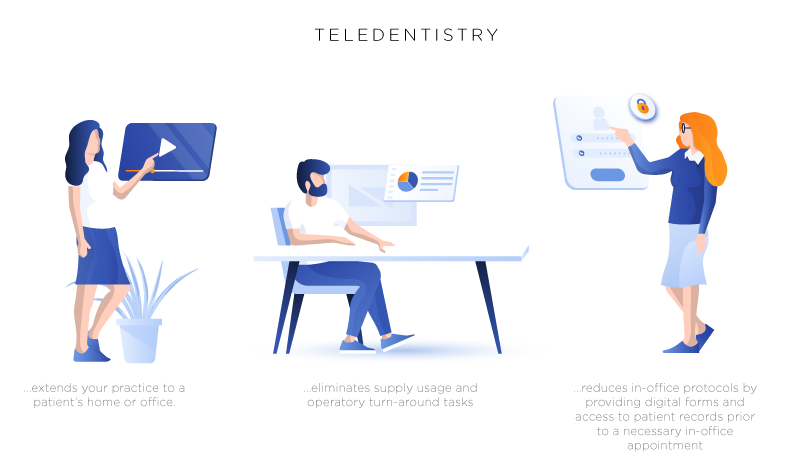 A remote, virtual dental visit provides a time-saving solution for your patients…and your team.
Teledentistry extends your practice to a patient's home or office.

Teledentistry eliminates supply usage and operatory turn-around tasks

Teledentistry reduces in-office protocols by providing digital forms and access to patient records prior to a necessary in-office appointment
Opportunity for new revenue
A teledentistry mindset throughout your team encourages other innovative, remote opportunities. For example, your clinical staff - including hygienists - can provide time saving triage and consults outside of an office visit.
Increase practice production through mobile dentistry provided at schools, corporations, and under-served communities

Give your team members more opportunity outside of the traditional, scheduled office hours
Train your staff in the uses of teledentistry for your patient care
Real-time video consults
FaceTime is a good analogy. Although it's highly recommended that you provide teledentistry via a dedicated, secure platform.
A synchronous (live) teledentistry visit provides you, your staff, and your patient an opportunity to interact in a two-way conversation. Questions can be asked and answered leading to an effective diagnosis and eventual treatment as necessary.
Deliver essential health information via your recorded virtual visits
An asynchronous (recorded) teledentistry visit can help with patient referrals and other virtual diagnostic consults.
Digital impressions can be shared with specialists

Patient visits with the specialist can be conducted virtually

Patients can upload their available x-rays and images to you and/or a specialist
Remote patient care follow-up
A patient can photograph their specific oral health issue or concern. The related image can be uploaded and shared via a secure teledentistry visit.
This helps when a real-time consultation isn't available or necessary. Patients can ask their question and share their condition and receive timely follow-up from you/your team.
Mobile dental opportunities
Educational, diagnostic, and treatment planning protocols can take place via a virtual portal. Informative resources or personal messages can be provided to an individual patient or a gathering where dental information is requested.
How to create a teledentistry set-up that efficiently utilizes your staff and treatment workflows
Make sure you and your team asks and answers the following process questions relative to implementing teledentistry visits.
What is our treatment protocol with teledentistry?
What remote services will we provide?

Could we do the diagnosis and treatment planning better in-house or virtually?

Who (staff) will have responsibility for teledentistry screening and scheduling?
How will our schedule align with providing teledentistry?
What schedule blocks are designated for teledentistry visits?

What specific days, times, or hour blocks will we open for teledentistry?
Where will our teledentistry visits take place in our facility?
What is the most private, secure area with the lowest potential for distractions?

Can the space accommodate more than one team member?

Does the space allow for access to our practice management platform and patient database?

Will the patients be informed that their privacy and HIPAA compliance is honored within our designated virtual visit space?
How will we document each teledentistry visit?
Does our practice management software accommodate a teledentistry consult and related information gathered?

How will patients be informed about checking-in and checking-out for their virtual visit?

Will we provide a virtual "waiting room" so patients standing by can be informed of their appointment status, forms necessary, etc.?
What will we do to assure ongoing communication about our teledentistry services?
Can our website accommodate a teledentistry information page and related promotional resources?

Who (staff) will be responsible for fielding teledentistry requests, questions, and general information required for the service?
The ultimate decision about teledentistry requires some "dedication"
And speaking of dedication…
A dedicated teledentistry platform can be equipped to facilitate your staff training, patient engagement - including ongoing patient education, and your necessary patient information required for a virtual visit.
Forms can be customized and uploaded for easy patient access

Patients can access and complete the required forms via a secure patient portal within the platform

Patients can update their forms and medical history information when necessary within the portal
The overall holistic solutions within a dedicated teledentistry platform enables you to fully maximize your virtual patient interactions…leading to better patient engagement!
Teledentix is an innovative, turn-key teledentistry solution created by Virtual Dental Care. The all-in-one platform will enable you to adapt teledentistry to your patient care and extend your services beyond the walls of your dental practice…and improve your patient engagement in the process.
Teledentix provides an

easy-to-use video conferencing tool

that's secure, HIPAA compliant, and specific to dentistry.

Teledentix Basic

is a perfect starting point. Begin with a free trial and then transition to a very low monthly fee. You and your patients can join unlimited video conferences including screen-share, file-share, video-share, and real-time chat communications.
Contact us about Teledentix and discover how it streamlines the interaction between you, your staff, and your patient around their dental care.