Bookends! That's an appropriate analogy for using teledentistry for pre-visit and post-visit patient communication.
Virtual dental appointments are becoming a norm for patient pre-appointment consultations and diagnosis on one end. And they're an effective way to maximize your dental practice workflows for post-visit follow-up.
Bookending your use of teledentistry with diagnosed in-office treatment or a specialist referral in-between saves patients time and enhances their peace-of-mind about dental visits.
Achieving "balance" in dental care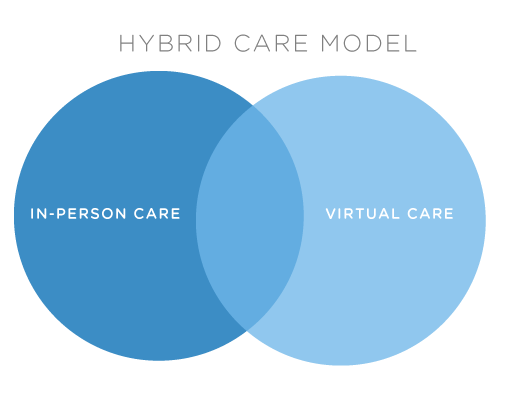 Many are confirming this new "hybrid care model." It's the effective and efficient blend of in-person care and at-a-distance (virtual) care.
The COVID-19 era of dentistry has propelled the model further down the road. Even so, its staying power is creating a more balanced approach to patient care and patient engagement.
The shifts in workflow that enhance using teledentistry for pre-and post-visit patient communication
There's more to teledentistry than promoting it and grabbing whatever technology you have on hand to chat with patients. The pure hybrid approach gives you an opportunity to maximize patient care standards in this new normal and for years to come.
New scheduling "norms"
In-office appointments have been the "default" for patient care. Virtual capabilities are now adding another channel for patient access and pre-appointment communication.
It's a decision between an appointment being in-person or virtual via teledentistry. And this creates some shifts in how you and your team approach initial patient conversations and scheduling protocols.
Create a talking-point script to prompt your front-office and clinical team to gather the necessary information for a virtual visit

Provide an online scheduling portal with a teledentistry link for easier patient scheduling, follow-up, and team efficiency
Automate information access
Perhaps your patients are already familiar with automated appointment reminders. Adding a teledentistry connection helps them clarify their current or desired appointment as a virtual visit vs. an in-person one.

Have a digital-bias
Not all patients will have a digital preference over face-to-face or hands-on interactions. Even so, it's important to your teledentistry success to build your foundational bias around digital workflows.
Create, send, and provide access to digital pre-appointment and "intake" forms. Use text, email, and your designated virtual-visit (teledentistry) platform to request and obtain patient information

Encourage patients to complete their required pre-visit and post-visit forms online ahead of their virtual (or in-person) appointment

(As a bias toward safety) Promote your digital portal as a safe, secure, and touch-less option (e.g. COVID-19 era)
Confirm the security of your teledentistry portal and virtual visits
Technology drives your virtual-visit solution. It's essential to make sure you're using secure audio and video connections.
Teledentistry appointments should align with HIPAA-compliant guidelines, assure secure communication, and be capable of clearly communicating your diagnosis and treatment consultations.

Provide digital payment and financial options
Convenience and comfort are keys to effective pre-visit and post-visit communications. Those factors also apply to patient payment solutions.
Give patients a mobile payment option for their co-pays and any post-visit balances on their account

Use text and email reminders with a clickable (secure) payment link they can use via their smartphone or device
Enhance post-visit communication with follow-up resources
It's important to give your patients the opportunity for feedback. Their comments can help you upgrade and refine your virtual visit patient experience.
Craft and share a digital survey. The convenient online option could improve your response rate for pre-visit and post-visit reviews.

Incentivize your follow-up process to increase patient response post-appointment

Apply relevant, useful feedback as soon as possible to show patients their input matters (and you're listening)
A patient facing solution that streamlines your use of teledentistry for pre-visit and post-visit communication
A dedicated teledentistry platform enables you to fully maximize your virtual patient interactions…leading to better patient care!
Teledentix is an innovative, turn-key teledentistry solution created by Virtual Dental Care. The all-in-one platform will enable you to adapt teledentistry to your patient care and extend your services beyond the walls of your dental practice…and improve your patient care in the process.
Teledentix provides an

easy-to-use video conferencing tool

that's secure, HIPAA compliant, and specific to dentistry.

Teledentix Basic

is a perfect starting point. Begin with a free trial and then transition to a very low monthly fee. You and your patients can join unlimited video conferences including screen-share, file-share, video-share, and real-time chat communications.
Contact us about Teledentix and discover how it streamlines the interaction between you and your patient around their dental care.