Adaptability is a common theme these days. The Coronavirus pandemic and the consistent call for flexibility from your dental patients are driving the necessary changes. Those reasons and more are factors for using teledentistry to expand your patient care.Oversight organizations such as the ADA (American Dental Association) are encouraging the use of teledentistry. Their guidance has aligned with patient demand during this season…and it's likely to fuel innovation for months to come.
Adapt to your "new normal"
Virtual consultations, appointments and diagnostic protocols are poised to remain long after the pandemic has subsided. Teledentistry has created new, safe, and convenient paths to provide and access dental care to patients of all ages.
Convenience and flexibility

Care access for rural, remote, and under-resourced communities

Urgent care options for dental emergencies
Remember, teledentistry isn't a particular branch of dentistry. Rather, it's a method of providing dental care.
The ADA first added CDT codes for teledentistry as they defined it as a care option:
"Teledentistry provides the means for a patient to receive services when the patient is in one physical location and the dentist or other oral health or general health care practitioner overseeing the delivery of those services is in another location."
And of course, HIPAA compliance and regulations are essential as a teledentistry provider. This heightens the need to assure that your teledentisty platform meets those standards for privacy and security.
In general, teledentistry provides you an opportunity to adapt to the virtual care environment many patients welcome and desire.
Five essentials when using teledentistry to expand your patient care
Teledentistry is basically a patient communication platform. That makes it vital that you understand and use effective verbal and non-verbal strategies to engage your patients virtually.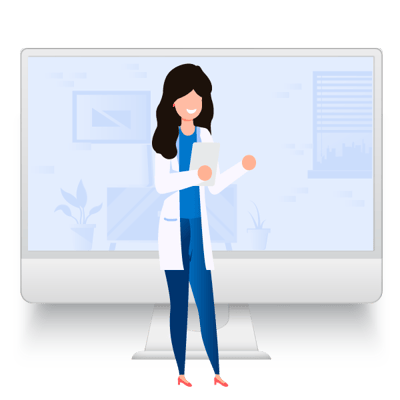 1-Choose your environment and words carefully
Treat a teledentistry conversation as you would one in-person. For example, you've probably designed your dental office with effective communication in mind.
From your front-desk to your treatment rooms to your consult settings you've given strategic thought to creating just the right environment for putting patients at ease.
The same applies to your virtual dental visits.
Eliminate visual distractions and clutter in the background

Use lighting that's inviting and illuminates your setting

Pause digital distractions such as email and other team communication tools

Speak up, speak clearly, use a conversational tone, and avoid technical jargon ("dental-speak")

2-Be camera-friendly
Eye contact should go without saying. But one caveat for virtual communication environments: look at the camera and not the patient!
Proper eye contact creates the right environment for effective communication…especially for tele-visits. Being camera-friendly communicates empathy and engagement when you're not physically present.
Focus on the patient in front of you as you speak

Inform them when it's necessary to reach for a chart or break focus to view another screen/document relevant to your consult with them

3-Keep the conversation flowing with open-ended questions
A teledentistry visit is a visual conversation that relies on what's seen, heard, and said. The lack of physical presence heightens the need to maintain good conversational skills such as the questions you ask.
Your questions help get to the source of their oral health issue or related concern. Achieving an accurate diagnosis requires obtaining as much information as possible via the virtual conversation.
Put the patient at-ease with casual, introductory-style questions and dialogue

Use condition-specific questions to obtain essential diagnostic information (e.g. "Tell me about the pain you're feeling…describe when/how your issue occurs…etc.")

4-Engage your patient in a collaborative conversation
Like the questions you ask, the information you share with your patient in a virtual visit will also prompt their questions and relevant responses to potential next-step treatment.
Keep in mind that a teledentistry appointment has the additional layer of technology. This can hinder your full perspective on a patient's non-verbal reaction to the information you present.

5-Extend a caring attitude into the virtual space
You're accustomed to the value of a smile. And a vital part of keeping teledentistry personal is extending your smile into the virtual space.
Think of it like a virtual handshake.
Start each virtual visit with a personal inquiry into your patient's well-being, life, etc.

Keep a list of care-oriented questions on-hand to prompt your conversation

Thank your patient for their trust in the teledentistry option for their appointment

Encourage them to help you improve the process so they and others will benefit from virtual visits
A patient facing solution that streamlines your care standards
The overall holistic solutions within a dedicated teledentistry platform enables you to fully maximize your virtual patient interactions…leading to better patient care!
Teledentix is an innovative, turn-key teledentistry solution created by Virtual Dental Care. The all-in-one platform will enable you to adapt teledentistry to your patient care and extend your services beyond the walls of your dental practice…and improve your patient care in the process.
Teledentix provides an

easy-to-use video conferencing tool

that's secure, HIPAA compliant, and specific to dentistry.

Teledentix Basic

is a perfect starting point. Begin with a free trial and then transition to a very low monthly fee. You and your patients can join unlimited video conferences including screen-share, file-share, video-share, and real-time chat communications.
Contact us about Teledentix and discover how it streamlines the interaction between you and your patient around their dental care.