Because of the limitations imposed by older technology, store-and-forward was synonymous with asynchronous communications … and the term persists.
So is there a difference between store-and-forward and asynchronous teledentistry?
Let's start with some definitions.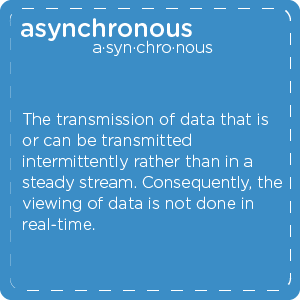 In telecommunications, asynchronous communication is the transmission of data that is, or can be transmitted intermittently rather than in a steady stream. Consequently, the viewing of data is not done in real-time.
"Tele" simply means "at a distance." Hence, teledentistry means dentistry performed at a distance.
Any dentist who has given professional opinions on the telephone has participated in teledentistry. More generally today, though, teledentistry refers to the remote viewing of information that will help facilitate more informed treatment suggestions.
So, putting the two together, asynchronous teledentistry is the non-real-time, remote viewing of diagnostic records to facilitate treatment suggestions.
An example of asynchronous teledentistry
In California, where hygienists can practice independently after receiving an Alternative Practice certification, hygienists and dentists can work together to form a mobile teledentistry practice. Typically, the hygienist takes mobile equipment to a community setting – perhaps a school, a senior home, a senior center, or even an office building. Equipment often includes a mobile cart with a compressor, the necessary instruments and supplies, a folding dental chair, hand-held x-ray machine and digital sensors, an intraoral camera, and a laptop with access to the necessary software.
The hygienist, often accompanied with a registered dental assistant, sets-up what is now commonly called the "pop-up operatory." On-premise, the hygienist typically performs preventive services and any others legally allowed by the state's dental practice act. They also collect all appropriate diagnostic records requested by the dentist with whom they work: radiographs, intraoral images, perio charting, existing conditions, etc. In most cases, the diagnostic information is stored digitally by the software.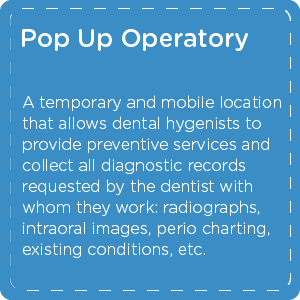 The dentist reviews the diagnostic records at some later time. If the patient appears to require further treatment, a referral to a bricks-and-mortar office is made.
This is a straightforward example of asynchronous teledentistry. Diagnostic records are captured remotely and later reviewed by a licensed dentist.
So, how does the dentist access the records?
In 2020, the answer seems obvious.
The hygienist uploads diagnostic records to a secure, cloud-based application

The information is immediately available for review by the dentist

The dentist logs into the ap

plication whenever is convenient

Treatment suggestions, etc. are input into the application



There is only one patient record, so the hygienist, dentist, and even patient (if desired) can view the real-time status of the record from anywhere, anytime.
Modern teledentistry solutions like Teledentix, do this easily.
Not that long ago, however, cloud-based applications were not ubiquitous. Most businesses, including dental practices, ran on desktop and client servers. The growth of the internet offered a great opportunity to move data efficiently, but it created a huge challenge: how to make different software applications talk to each other. It was a real challenge, and teledentistry was not immune.
An example of asynchronous teledentistry without teledentistry software
A dental school had a community outreach program using hygienists in mobile vans. The dental school's software application, common among dental schools, was Axium. Axium did not have a mobile solution for the vans. So, they installed Dentrix G-7 in the laptops used in the vans. As in the above example, the diagnostic information was stored in Dentrix, and the school had the dilemma of how to forward the information into Axium, where the dentist might review the records and all records would be centralized.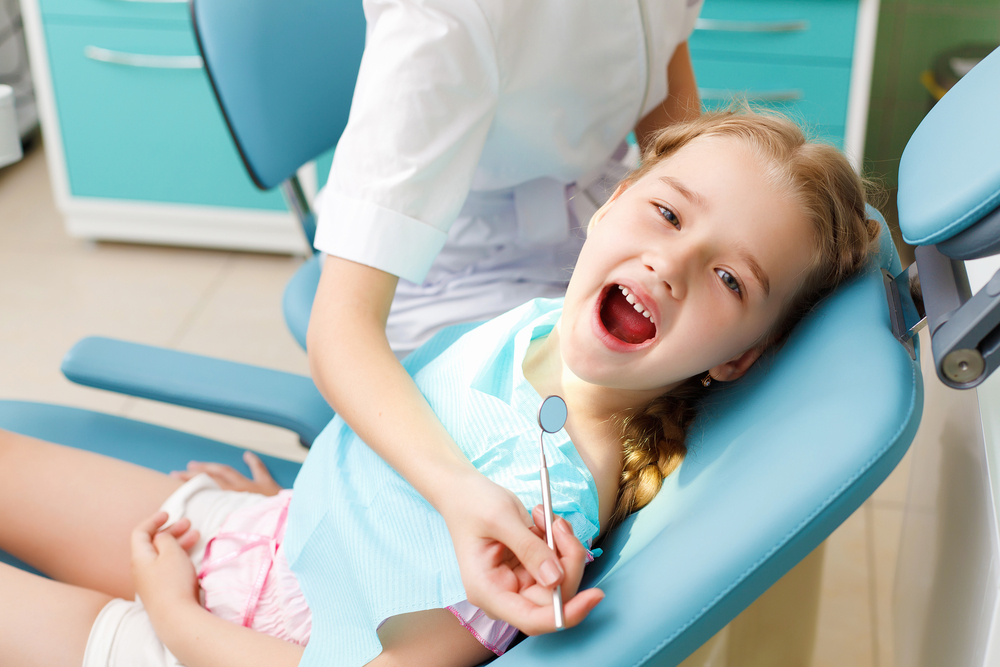 This scenario played out multiple times with multiple solutions, and the term store-and-forward was coined. In short, the goal was to store data in one application and synchronize it (forward it) with another. Technically, it was not easy. Even if one could work out the data mapping issues, timing was still an issue. Did you synchronize daily, weekly, on the hour, etc. Even when a successful solution was developed, no one could avoid the issue that there are 3 potential points of failure.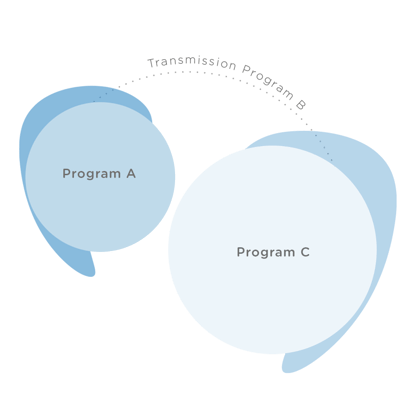 1. If Program A is updated, Program C will not recognize the new data.
2. If Program C is updated, the data that Program A sends will not be recognized.
3. If Program B breaks, no synchronization will take place.
Cloud-based applications, of course, have no need to synchronize. All the data is stored instantaneously in one location. The three points of failure disappear. But, for businesses that do not want to or cannot change their legacy systems to cloud-based platforms, store-and-forward is still the compromise that is necessary.
Is store and forward teledentistry the same as asynchronous teledentistry?
Still today, one will hear the term store-and-forward used interchangeably with asynchronous teledentistry. It is really an anachronism. If you are using a cloud-based solution, you are simply "storing," there is no "forwarding" involved. If you are using an application that requires store-and-forward, you may want to consider switching to a cloud-based application like Teledentix to eliminate at least three software applications that incorporate 3 unnecessary potential points of failure.