The role of the dental hygienist is ever-evolving. Add to that the rise of mobile dentistry services and now teledentistry. That combination makes it possible to become an independent hygienist through providing mobile dentistry services and including teledentistry in the mix.
Mobile access to dentistry has gained traction. And with ongoing pandemic concerns, economic challenges, insurance hurdles, and under-resourced health care realties the career shift is happening.
Is there opportunity for the "independent hygienist?"
First, the answer depends on state allowance for non-traditional dental hygiene services.
"The ADHA (American Dental Hygiene Association) defines direct access as 'the ability of a dental hygienist to initiate treatment based on their assessment of a patient's needs without the specific authorization of a dentist, treat the patient without the presence of a dentist, and maintain a provider-patient relationship."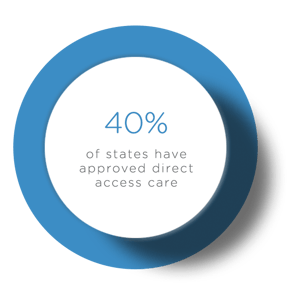 As of 2017, 40 states have approved direct access care (up from 28 states in 2008).
The scope of care for hygienists is driven in part by the public's lack of access to preventive dental care and oral health resources in general. Rural communities and those facing financial challenges across all community sizes are creating new opportunities for dental hygienist jobs including the solo hygienist.
Elderly populations are also an increasing opportunity for non-traditional oral health and hygiene care. Dental practices and/or hygienists equipped for mobile dentistry can take preventive dental care and more to this underserved population. Treatment can be provided independently (per state allowance) or under the scope of a dental practice.
And there's yet another opportunity…
California (only) based dental hygienists can provide dental hygiene care as an RDHAP (Registered Dental Hygienist in Alternative Practice). This specific licensing applies to providing hygiene serves those with limited access to care through a traditional dental office.
As a RDHAP licensed in California you can…
Provide care in your own office setting
Or take your services as a mobile hygienist to:
Residences

Assisted living and related care facilities

Schools
An RDHAP's services can include:
Oral cancer screenings

Periodontal assessments

General oral health assessments

Consultations with dentists and/or physicians regarding a patient's oral or general health condition

Preventive dental care

Periodontal therapy

Fluoride

Oral health education

Nutritional guidance
How to become a mobile hygienist is first a question of meeting certain requirements
Practice scope, state requirements, and dental practice acts that promote the lawful practice of dentistry are all priorities for becoming a mobile hygienist.
The ADHA helps cover your bases.
A

listing and overview

of all states that have approved direct access care

A definition of how each state approaches direct access care

Connection with state dental boards regarding what acts are being followed state to state

Networking affiliations with state and local organizations collaboration around improving health care regulations
Next, is understanding the difference between mobile dentistry and direct access care. The two terms compliment each other but are actually two separate services and they're regulated separately.
As a dental hygienist you could provide mobile dentistry in a state that doesn't allow direct access to dental hygiene services. Though you could (as a hygienist) provide care under the a dentist's supervision within a mobile dentistry organization.
Speaking of supervision…
Each state's dental practice act will determine the supervisory level for dental hygienists seeking to provide mobile dentistry services - as an independent hygienist.
Telehealth, telemedicine, and teledentistry services are also subject to certain regulations within the mobile dentistry environment.
Overall the collaboration with a supervising dentist and the type of collaboration is a necessary consideration for the solo hygienist. Some states will allow preventive dental care without on-site supervision by a collaborating dentist. And other states will allow an independent hygienist to to provide a full range of dental services.
Basically, according to various state dental boards, there are three perspectives on supervision:
1-No supervision

2-Collaboration with an off-site dentist

3-Collaboration with an on-site dentist

[3]

Becoming a mobile hygienist requires rethinking about mobile dentistry and the benefits to patient care
Keep in mind that mobile dentistry has been around for awhile. Yet today's consumers are driving the surge in interest.
Technology innovations and reliance on mobile devices is also increasing attention.
Rethinking mobile dentistry as an independent hygienist or a mobile hygienist will require you to ride the waves of reaching patients via mobile technology…and the mobile delivery of services.
Jobs for RDHs will emerge as renewed interest in the benefits of mobile dentistry occurs.
Create new revenue streams by extending access to preventive dental care beyond the walls of the traditional dental practice.

Expand marketing opportunities for reaching new patients and obtaining referrals. Each could be funneled to the established dental practice for additional or necessary treatment.

Increase flexibility and adapt to available provider relationships. Becoming a mobile hygienist allows you to connect with more than one provider, select your services, and determine your scheduling and location boundaries.

Extends the traditional dental office beyond one location. As a solo hygienist using mobile dentistry you can design your hours and production potential.

Incur lower start-up costs. Portability can help reduce your set up and maintenance investment. Each are based on the level of services you provide as a mobile hygienist.

How to
start your own teledentistry practice
that supports mobile dentistry, freelance dentistry, and you among other freelance hygienists
Underserved communities - such as the senior population - are lacking in access to dental care. While cost is a top barrier for seniors so is locating a provider and time or convenience issues.
As a mobile hygienist you can deliver preventive dental care to those underserved communities - including seniors. You could choose to remain in collaboration with a dentist and affiliated practice or choose the freelance dentistry path.
A teledentistry platform allows patient images, data, and other oral health information to be obtained in real-time (synchronously). Or the information can be obtained for a later review (asynchronously) outside of the time it's obtained.
Your states laws and dental board directives will determine the level of mobile dentistry you can provide utilizing teledentistry. Again, the collaborative and/or supervisory relationship of freelance hygienists depends on state and local dental practice acts.
The mobile dentistry related solutions within a dedicated teledentistry platform enables you to fully maximize your decision to become a mobile hygienist.
Teledentix is an innovative, turn-key teledentistry solution created by Virtual Dental Care. The all-in-one platform will enable you to adapt teledentistry to your patient care and extend your services beyond the walls of your dental practice…and improve your patient engagement in the process.
Teledentix provides an

easy-to-use video conferencing tool

that's secure, HIPAA compliant, and specific to dentistry.

Teledentix Basic

is a perfect starting point. Begin with a free trial and then transition to a very low monthly fee. You and your patients can join unlimited video conferences including screen-share, file-share, video-share, and real-time chat communications.
Contact us about Teledentix and discover how it supports with your interest and provided services relative to becoming an independent hygienist.