Dentistry has shown its resilience over time. The COVID-19 pandemic and proactive shifts in care delivery have proven this point in recent history.
Among those "shifts" is the progression of direct access hygiene. The American
DentalHygienists' Association (ADHA) advocates for dental hygienists with a strong emphasis on assuring access to oral hygiene.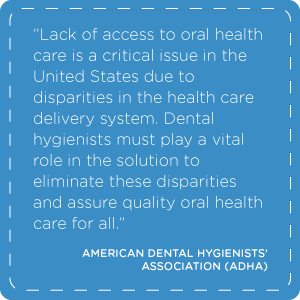 "It is the position of the ADHA that oral health care—a fundamental component of total health care—is the right of all people. Lack of access to oral health care is a critical issue in the United States due to disparities in the health care delivery system. Dental hygienists must play a vital role in the solution to eliminate these disparities and assure quality oral health care for all." [1]
This declaration supports the evolution of the hygienist role. And there's an appeal for dental hygienists seeking alternatives within the pandemic-era of dentistry and on the other side of it.
Before we take a look at the "state," progression, and outcomes of direct access hygiene let's clarify it: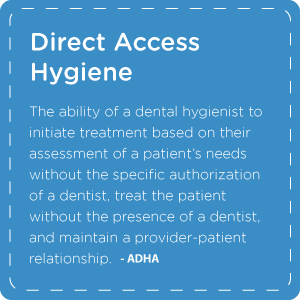 "Direct Access refers to the ability of a dental hygienist to initiate treatment based on their assessment of a patient's needs without the specific authorization of a dentist, treat the patient without the presence of a dentist, and maintain a provider-patient relationship." [2]
The "state" of direct access hygiene
We're talking the literal state-to-state evolution of this care delivery option. Again, the ADHA monitors and communicates the direct access expansion across the US.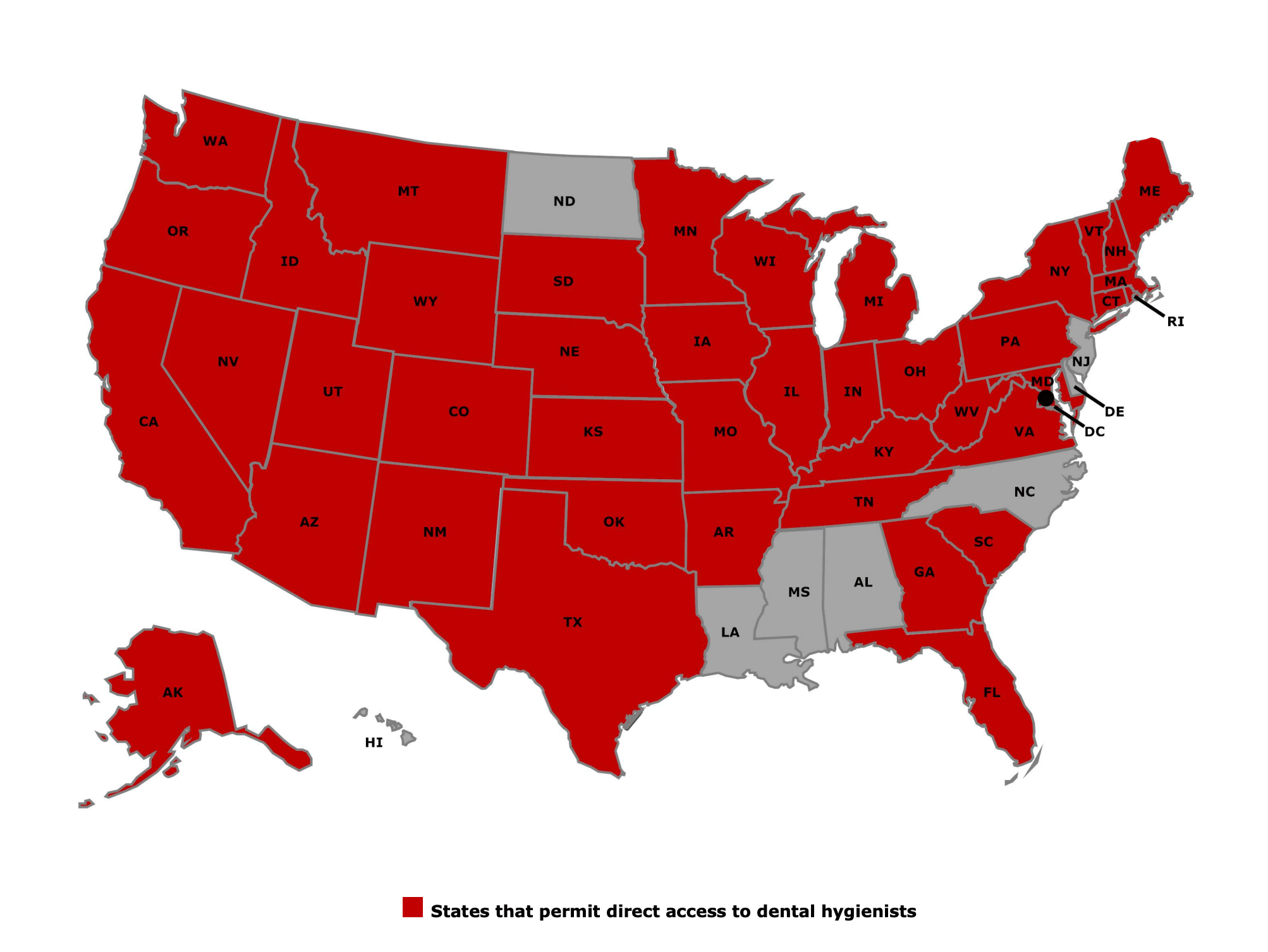 As of 2021 there are 42 states that allow direct access hygiene. A map provided the ADHA reveals where this option is accepted and utilized for care delivery.
There are required "agreements" a direct access hygienist must obtain based on each state's requirements. A sampling of these agreements include the following:
An affiliated practice agreement
A registered dental hygienist in a alternative practice (RDHAP)
A supervisory agreement (General of Unsupervised)
An access practice agreement
A public health dental hygienst
As noted, each state that allows direct access hygiene has its required agreement structure. A thorough state-by-state explanation is available in the ADHA's listing of Direct Access States.
The progression of direct access hygiene
A timeline can give you some indication of how states have begun to recognize the value of direct access to local patients, providers, and dental hygienists.
Note the following progression going back to 2008:
28 states (2008)

34 states (2011)

40 states (2017)

42 states (2021)
Picture the evolution of the service via the ADHA's map showing the Progression of Direct Access.
It's hopeful that with the current dip in care access and the 2022 dental hiring crisis other states will join those who allow it.
Katrina Sanders, RDH, BSDH, Med, RF, a dental hygienist and educator confirms the progression,
"A lot of progress has been made over the years, but more work needs to be done. As a growing number of community oral health programs turn to direct access dental hygienists to help fill gaps in patient care, programs in other states will take note and begin to do the same. That's when people will really start to see change,…
'One state will look at what's successful in another and learn from that, and then slowly other states will begin to adopt the pieces that worked as well,…It really starts with the community oral health programs. This is where we'll see eyes opening across the industry.'" [3]
The process and preferred outcomes for direct access hygiene
Hygienists within the states that allow direct access have an opportunity to expand their role. And with that comes a sense of autonomy as a dental professional.
State board approval provides hygienists the go-ahead to complete CE (Continuing Education) towards a restorative-care certification. Hygienists with applicable certification can:
Utilize advanced technology and instrumentation

Provide stand-alone care protocols

Have the ability to administer local anesthesia
Direct access hygiene increases the hygienist's scope for delivering patient education and care advocacy.
Underserved communities have improved access to oral health care and preventive education

Some care costs could be lowered
The expanded care environment provided by direct access hygiene requires ongoing communication and synergy with dentists. The results can not only close care gaps but also improve in-office patient care workflows.
Expanded care through direct access hygiene is supported by innovative technology
Remote flexibility and the virtual care environment serve the direct access model. This includes teledentistry technology.
Explore the following resources for more insights into how teledentistry improves care standards and supports direct access dental hygiene:
Direct Access Dental Hygiene is Creating a New Day for Hygienists and Filling the Care Gap
Behind the Case: Trained Dental Hygienists Can Help Coordinate Care Using Teledentistry
How to Become an Independent Hygienist Using Teledentistry and Mobile Dentistry Services
Get a personalized demo of Teledentix!
[1] https://www.adha.org/direct-access
[2] https://www.adha.org/direct-access
[3] https://www.dentalproductsreport.com/view/direct-access-dental-hygiene-how-far-it-s-come-and-where-it-s-going