With independence comes responsibility. That's essential to understand if you're considering the independent dental hygienist journey. And it follows that establishing responsible collaboration with a dentist is best achieved through a collaborative agreement.

First, let's clarify the broader category that's driving this trend. Direct-access dental hygiene is defined by the American Dental Hygienists Association (ADHA) as: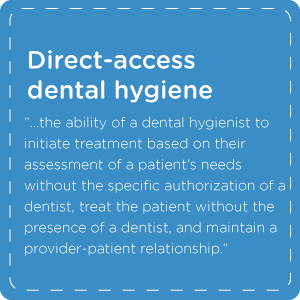 "…the ability of a dental hygienist to initiate treatment based on their assessment of a patient's needs without the specific authorization of a dentist, treat the patient without the presence of a dentist, and maintain a provider-patient relationship." [1]
Perhaps you're a dental hygienist or a dentist seeking to understand this new collaborative relationship. The ultimate goal is expanding access to care.
But that goal comes with some specific questions and related perspective so that any necessary collaborative agreement can be productive for all.
What states allow independent hygienists?
The ADHA confirms that currently 42 states allow you (as a dental hygienist) to practice without being supervised or authorized by a dentist. The number of states has grown from 28 in 2008.
A list of direct-access states includes the following: Alaska, Arizona, Arkansas, Connecticut, Florida, Idaho, Illinois, Iowa, Kansas, Kentucky, Maine, Maryland, Massachusetts, Michigan, Minnesota, Missouri, Montana, Nebraska, New Hampshire, New York, Nevada, Ohio, Oklahoma, Oregon, Pennsylvania, Rhode Island, South Carolina, South Dakota, Tennessee, Texas, Utah, Vermont, Virginia, Washington, and West Virginia. Eight states do not yet permit direct access: Alabama, Delaware, Hawaii, Louisiana, Mississippi, New Jersey, North Carolina, and North Dakota. [2]
Keep in mind that some states might define titles and guidelines differently for independent dental hygienists. Whatever the form of care allowed, it's essential to follow your state's requirements and any established collaborative agreement policy.
How is direct-access and the independent hygienist affecting the future of dentistry?
The US Department of Health and Human Services sees a shortage of dentists nationally by 2025. That might sound like a bold prediction but it prompts some creative solutions nonetheless. [3]
Alongside that scenario is the growing number of practicing dental hygienists. Over 200,000 hygiene professionals provide a potential solution for oral care access.
An increased awareness of the independent hygienist role and the scope of direct-access care will naturally produce innovative solutions.
What type of supervision (if necessary) is required for an independent hygienist?
Again, this is determined state by state. Generally for services provided by an independent dental hygienist the setting/location, treatment provided, and level of education determine the boundaries.
"Direct supervision" implies that the dentist must be physically present in the office or in the room where treatment is conducted. The dentist is required to do the initial exam, provide the diagnosis, and authorize treatment.
"Indirect supervision" means the dentist must (at a minimum) be in the office.
"General supervision" directs the dentist to be available for any consultation purpose but not be in the office.
All things considered, it would make sense that direct or indirect supervision would be a barrier to a hygienist desiring to practice outside of a traditional practice setting.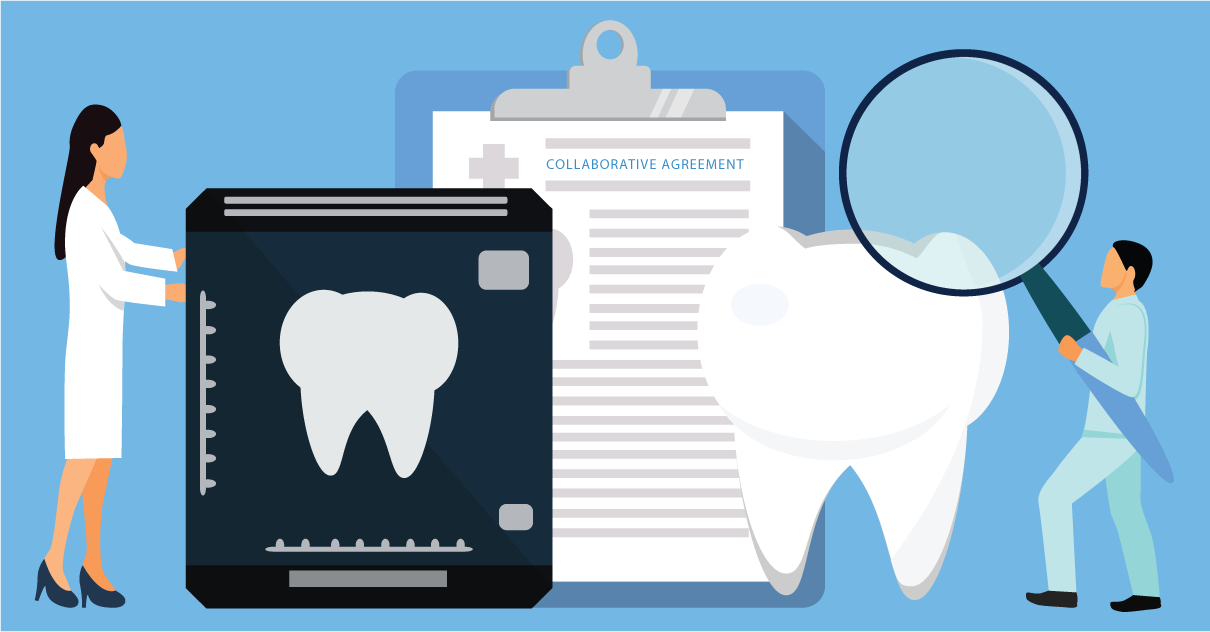 How does a collaborative agreement work for a dental hygienist and a dentist?
Most states that allow direct-access care by an independent hygienist also permit an agreement to exist between them and a dentist. Collaborative agreements can also vary state to state but generally include allowances such as:
Dental hygienists providing basic oral hygiene treatment without prior authorization by a dentist.

The patients predetermined needs can be met without direct supervision by a dentist.
Overall, the agreement policies within each state are helping eliminate barriers to care in underserved areas. Collaborative models and related agreements are increasing access to dental care and helping with care gaps in the provider workforce.
In Minnesota, for example, a collaborative agreement is defined as:
"… a "written agreement with a licensed dentist who authorizes and accepts responsibility for the services performed by the dental hygienist." [4]
As states apply agreements, hygienists who have them are urged to use them. Low percentage of usage creates opportunity to expand the potential of collaborative agreements where they're welcomed.
What opportunities do independent hygienists have with collaborative agreements?
First of all, direct-access care is a win for patients. Independent hygienists help remove the barriers to care and shift patient's perspective about receiving care.
Patients avoid dental offices for a variety of personal reasons. Could be insurance, general anxiety about care, financial issues, etc.
Independent hygienists provide access to affordable care outside of a traditional care model. It's an emphasis on the patient aside from production goals.
Collaborative agreements for dentists and independent hygienists can lift care standards
Innovation around care mobility is the essence of the direct-access care model. The following resources cover that and highlight the role of teledentistry and mobile dentistry support in the process.
Direct Access Dental Hygiene is Creating a New Day for Hygienists and Filling the Care Gap
Webinar series - Becoming an Independent Hygienist Part 1
How to Become an Independent Hygienist Using Teledentistry and Mobile Dentistry Services
Get a personalized demo of Teledentix!
[1] https://www.todaysrdh.com/5-myths-about-independent-dental-hygiene-practice/
[2] https://dimensionsofdentalhygiene.com/the-impact-of-direct-access-and-dental-therapy/
[3] https://www.rdhmag.com/patient-care/alternative-practice/article/16408059/direct-access-and-the-dental-hygienist-state-spotlight-colorado
[4] MINN. STAT. § 150A.10, subd. 1a(e)..