Thoughts of freedom aside - the increase in productivity and care access is tempting. That's why direct access dental hygiene is gaining credibility state by state.
On record, 42 states now open the door to dental hygienists who want to practice without supervision or authorization of a dentist, according to the American Dental Hygienists' Association (ADHA). Since 2008, the opportunity has increased from 28 states. And Colorado is among states that allow hygienists to own their own practice.
For starters, each state's dental practice act sets their guidelines for hygienists. Supervised dental hygiene is still the norm - though frustrating for hygienists who want to step outside the box with their skills and care opportunities.
A new day for dental hygienists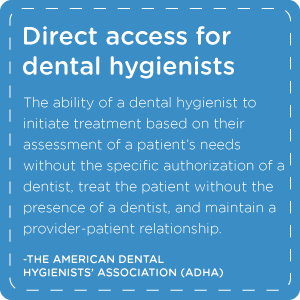 Direct access for dental hygienists has continued to evolve. Here's the working definition that's setting the pace:
"The ability of a dental hygienist to initiate treatment based on their assessment of a patient's needs without the specific authorization of a dentist, treat the patient without the presence of a dentist, and maintain a provider-patient relationship." - Source: The American Dental Hygienists' Association (ADHA)
That's a green light that has cleared the road for hygienists.
Advanced technology and instrumentation
Stand alone care protocols
Ability to administer local anesthesia
These "expanded functions" are creating autonomy and independence too. As a hygienist you can have more direct involvement in the clinical side of patient care.
Where allowed and with state board approval, a dental hygienist can complete continuing education (CE) and receive a restorative certificate. And depending on each state's practice acts hygienists can provide related services including:
Application of cavity liner/base
Placement, carving, and finishing of amalgam restorations
Placement and finishing of composition restorations
Placement and removal of temporary restorations
Temporary crown fabrication
Patient education and advocacy are core to a dental hygienist's desire to expand their services. They're accustomed to standing in the gap with patients during their treatment consults and decisions.
State by state recognition of the dental hygienist's role is expanding their care impact. The ADHA's thorough list of Direct Access States and their related agreements is a recommended resource for where each state lands on this trend.
How direct access dental hygiene is filling the care gap
Expanded patient care is an undeniable result of direct access hygiene. The community impact is also broad - especially where dentistry has been lacking.
Underserved communities

Communities without access to primary health care, dental care, or mental health care
Dental hygienists help expand the scope of care in state communities that allow direct access. For example, one doctor in a single clinic can be supported by a team of direct access hygienists.
While the dentist is diagnosing and prepping the patient's teeth, a hygienist can be dealing with the restorative aspect.
The practical results in these communities are:
Higher patient volume

Lower provider costs per patient
Challenges to expect in the direct access environment
State guidelines
A state's dental practice acts are a top challenge. As noted in the ADHA resource each state is different and their pace of change can slow the progress for hygienists.
Dentistry in general
Hesitant dentists are burdened by their perception about a hygienist's skill set. For example, they're somewhat guarded about their restorative training compared to a hygienist's. And there's the unspoken feeling of having to acquiesce to a provider with a less training and lower compensation.
Impact on standard practice workflows
Dentists and hygienists typically synch up very well in their routine. Structure works to their advantage so any interruptions have the perceived potential to create gaps in productivity.
Education
Hygienists have the opportunity to expand their skills. But costs can be prohibitive if there's not a shared vision or financial support for them doing so by their dentist.
Educational levels also create challenges. Some states require specific training prior to a hygienist performing procedures - such as a restorative dental hygiene license.
Adapting to the direct access hygiene opportunity
Dentists and dental hygienists must be in alignment with their state requirements
Beyond state allowances for direct access hygiene, each practice must determine what procedures they're willing (and able) to distribute to their qualified hygienist(s).
Evaluate opportunities that positively affect patient workflows
It's really a question of where a qualified, equipped hygienist can deliver what's best for the patients. Dental hygienists already have a strong patient-facing role within a practice. Direct access supports that process.
Preserve clinical boundaries while expanding scope of care
Direct access hygiene isn't about hygienists taking on the role of the dentist. Mutual respect must be maintained between doctor and hygienist.
The value is having qualified, trained clinicians who can provide additional and necessary support for certain treatments (e.g. restorative). A win-win perspective must be kept in focus when transitioning to a direct access model.
Embrace the current and future changes
Communities are benefiting from this model of dentistry. States are learning from each other and beginning to adopt the effective portions of direct access hygiene.
As alignment occurs the model will provide access to under served communities and those who would otherwise not be able to afford dentistry.
Patient care wins as more guidelines become standardized. Hygienists will face less push-back and be able to scale their skill set to meet practice and patient demand.
Elevated care standards lift everyone
Mobility is of equal importance to the direct access model. It could also include care elevation through teledentistry or telehealth services.
Access the following resources for more in-depth insights into how teledentistry (specifically) is improving care standards and supporting innovations like direct access dental hygiene:
How to Become an Independent Hygienist Using Teledentistry and Mobile Dentistry Services
Can a Hygienist Own a Teledentistry Support Organization (TSO)?
Get a personalized demo of Teledentix!