A pilot approach to an innovation is understandable. Cost, workflow adaptations and more are factors. For example, a DSO teledentistry network might be better implemented that way.
But many are going all-in.
Early and fast adoption of teledentistry technology across the industry could speed the process to broader adoption. And it could help position you for expanded production opportunity organization wide.
The unique position of DSOs to adopt teledentistry
Corporate dentistry leadership likely recognizes the growing interest in teledentistry. Market data confirms it.
"… nearly 80% of patients said they are likely to use some form of teledentistry in the next few years." [1]
DSOs are getting onboard. Teledentistry is being implemented in response to the demand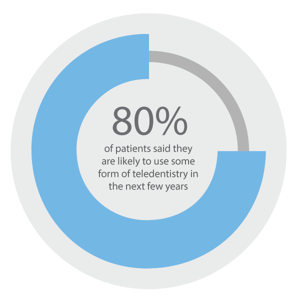 surge.
Enhanced patient communication appears to be the driving factor. Even so, DSOs recognize the need for more refined technology to assure teledentistry meets expectations.
Two factors enable your DSO to embrace a full teledentistry platform beyond the patchwork approaches common with early adopters.
Consider your DSO's organizational scope. Perhaps you have the resources and team bandwidth to implement a dedicated teledentistry platform within your current workflows.
Another consideration is your DSO's scalability potential. A well-executed teledentisty roll-out can scale across your entire organization's workflows.
DSOs have a pace-setting opportunity around teledentistry
Once you understand that teledentistry is way more than a video conferencing tool you'll recognize its scalability.
Here are some of those scalable solutions at a glance:
Synchronous (real-time) communication

Asynchronous (store-and-forward) content

Patient routing

Referral options

Prescription capabilities

Digital forms

Real-time eligibility checks

24/7 access

Patient/provider support
Each of those enhance your transition to a virtual dental care model.

Imagine the possibilities as a DSO teledentistry network provider
It's all about providing a more seamless patient experience. Plus, the teams across your organization will benefit from more energy efficient workflows.
Virtual scheduling for affiliated providers. Set your availability for teledentisty patient consults.

24/7 connectablity. A nationwide provider network provides virtual connection to licensed dentists when you aren't available. In-person follow-up care can be routed to your affiliate dentists to maintain your patient connection.

Integrated website option. Teledentistry services can be launched from a single affiliate location or across your organization's enterprise system.

Digital intake forms with advanced benefits qualification (207/271). Forms can be customized for existing or new patients and segmented for symptoms, insurance, payment, etc.
Those are the broad-stroke benefits you can anticipate with a dedicated teledentistry network platform. Let's drill-down a bit deeper into virtual dentistry's DSO scalability.
Use teledentistry for multiple appointment types
Virtual visits on-demand
Your patients have the ability to connect with an affiliated provider for immediate assistance. This supports dental emergencies, patient triage, and other after-hours situations.
Scheduled consultations
Patient time is saved by giving them a virtual option for asking questions or sharing their health status. Built-in appointment confirmations keep you and your patient engaged.
Share and view images
Capture images and share existing photos with affiliated providers across your network. Secure diagnosis can be delivered via real-time consultation or recorded content.
Improve your referral network
Share post-visit records
You have the ability to share all records gathered during the teledentistry visit. Diagnosis, prescriptions, and necessary patient information can be shared across your organization, with another of the patient's providers, or a specialist in your referral network.
Geographic referrals to maintain your patient relationships
Think of teledentistry as an opportunity to create "borderless" patient relationships. Share records with another brick-and-mortar affiliation in your organization. This helps create recurring and longterm patient loyalty.
Improve and sustain your continuity of care
Seamless transitions help preserve patient loyalty. Share forms, images, charts, health history, prescriptions and more - dentist to dentist or with specialists.
A teledentistry platform also enhances communication across your organization and with colleagues. Instant chat, email, text, and social media-like connections produce better patient and referral relationships.
And consider the marketing-effect of teledentistry adoption
Teledentistry has established its presence on the dental landscape. It joins an already impressive telehealth environment.
That said, it's likely that patients will seek providers that offer a virtual dental care platform. Your DSO can become a benchmark as it responds to patient demand for convenience, care continuity, and easy-access to their oral health care.
Build the service into your DSO. It could create more and new opportunities to expand your organization's care standard.
Check out these resources for a deeper-dive into expanded patient care using teledentistry and mobile dental solutions in your DSO:
Guide to a Teledentistry Consultation Network
It's Time for Teledentistry Adoption Inside and Outside the Pandemic Context
A scalable solution for DSOs that streamlines and upgrades your care standards
Teledentix is an innovative, turn-key teledentistry solution created by Virtual Dental Care. The all-in-one platform will enable you to adapt teledentistry to your patient care and extend your services beyond the walls of your dental practice…and improve your patient care in the process.
Teledentix provides an

easy-to-use video conferencing tool

that's secure, HIPAA compliant, and specific to dentistry.

Teledentix Basic

is a perfect starting point. Begin with a free trial and then transition to a very low monthly fee. You and your patients can join unlimited video conferences including screen-share, file-share, video-share, and real-time chat communications.
LEARN MORE about the Teledentix platform.
[1] https://dentavox.dentacoin.com/blog/teledentistry-surteledentistry-survey-shows-patients-are-ready-to-welcome-it/