Partnerships add depth to an organization's resources. A teledentistry partnership for dental industry consultants and support organizations adds relevance to their available tools.
If you're among this industry group you'll recognize the value of partnering with those on the development edge of virtual dental care technology.
The relevance and resourcefulness of teledentistry equipped dental consulting
No doubt, COVID-19 created challenges for dental providers and those who support them as consultants. And yet the business and clinical challenges continued with a bend towards pandemic related themes.
Teledentistry was timely and useful in the early era of COVID-19. As the dental industry has adapted the virtual connection has become more of a normative solution for patient care and engagement.
Dental consultants and support organizations with an eye on the future see teledentistry's benefits within and beyond the pandemic era. If you're among them, it would serve you and your clients to know how virtual dental care is scaling across dentistry.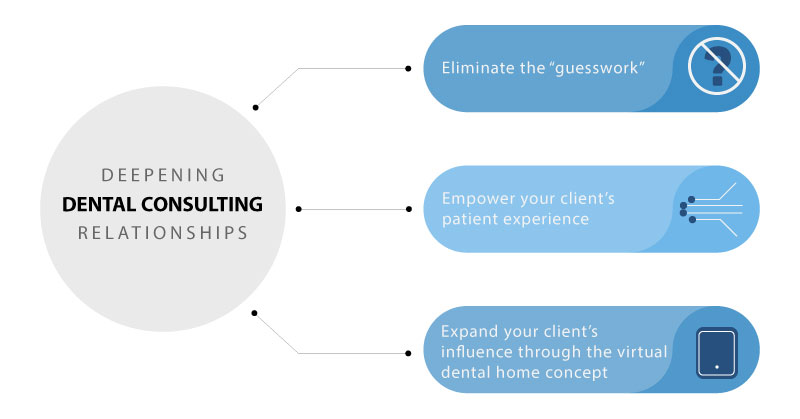 Partnering with teledentistry innovators can deepen your dental consulting relationships
Eliminate the "guesswork"
Dentists who recognize teledentistry's value and future growth will look to those who are developing it. Virtual dental care is more than "cobbling together" available audio/video communication platforms (e.g. FaceTime, Zoom, etc).
There are security and compliance requirements

There are quality and ease of use essentials

There are scheduling and accessibility needs
Awareness of dedicated and fully equipped teledentistry technology gives you an advantage as an industry resource. Being equipped with a virtual dental care knowledge base and available options can increase your related credibility.
Empower your client's patient experience
Patient engagement has shifted. What was most often an in-office connection is now (due to COVID-19) broader in scope.
Teledentistry creates another option for patient engagement. And a well-equipped system for virtual visits will naturally enhance the patient experience.
Keep in mind that the patient experience includes interactive care but also how your client's patients access that care.
In-office visits can be proceeded by a convenient, time-saving virtual visits.

Online connectivity provides patients a new initial entry-point to your client's practice. Online scheduling, form availability, records and image reviews, and payment portals enhances the patient experience for many.

Referral hand-offs and specialist consultations can be conducted virtually saving time for providers and patients.
Expand your client's influence through the virtual dental home concept
Technology such as teledentistry opens the door to innovative thinking. Among those innovations is the establishment of a virtual dental home mindset.
Encourage your clients to think about the scalable opportunities of the virtual care environment. This way of thinking about dentistry extends their reach beyond the traditional brick-and-mortar mindset.
Digital thinking keeps dental practices on the innovative edge.

Early adoption of current and emerging technology enables practices to be recognized innovation leaders.

Industry vendors, product/service developers, innovators, and patients could be drawn to providers who are digital/virtual outliers.
Forward-thinking consultants attract more of the same. And in this era of dentistry those with virtual familiarity will have an advantage.
Check out these resources for more insight into the optimism around teledentistry and its value to your clients:
Unified Smiles Partners with Virtual Dental Care to Provide Teledentix to Clients
3 Phases of Teledentistry Best-Practices for 2022
Why Teledentistry is a Here-to-Stay as a Sustainable Service
Looking to partner with proven teledentistry innovators?
Teledentix is an innovative, turn-key teledentistry solution created by Virtual Dental Care. The all-in-one platform will enable you to adapt teledentistry to your patient care and extend your services beyond the walls of your dental practice…and improve your patient care in the process.
Teledentix provides an

easy-to-use video conferencing tool

that's secure, HIPAA compliant, and specific to dentistry.

Teledentix Basic

is a perfect starting point. Begin with a free trial and then transition to a very low monthly fee. You and your patients can join unlimited video conferences including screen-share, file-share, video-share, and real-time chat communications.
LEARN MORE about the Teledentix platform.