Teledentistry has somewhat quietly evolved since around 2010. The evolution timeline is now giving teledentistry best-practices a prominent place moving into 2022.
The narrative around teledentistry is expanding. And that's good news for your patients, your workflows, and the innovations you can anticipate in the months ahead.
Speaking of innovations - that's continuing to define the pace of what we can call the teledentistry evolution. It's helpful to frame the evolution going forward into three categories.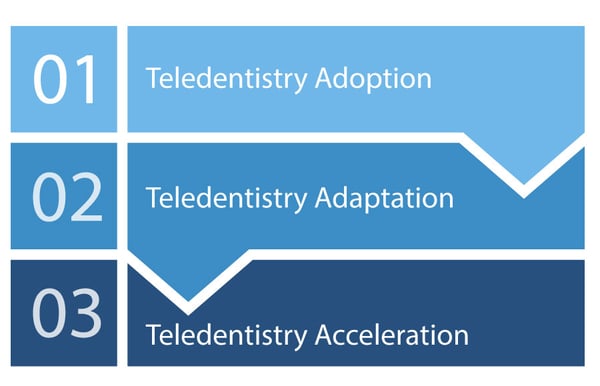 1-Teledentistry adoption
2-Teledentistry adaptation
3-Teledentistry acceleration
Each promote a teledentistry best-practices mindset. If you're an early adopter, a soon to be adaptor, or ready to accelerate your teledentistry services the following will help.
Three phases of teledentistry best-practices to set the pace for 2022 (and beyond)

1-Teledentistry adoption enhances your patient experience
There's optimism about how teledentistry is perceived by dental patients. One survey confirms the optimistic outlook:
"…78 percent of patients believe they are likely to use it within the next five years." [1]
The favorable perspective has a lot to do with how patient-facing teledentisty is.
Virtual and remote care capabilities for diagnosis, consultations, treatment follow-up, emergencies, and triage.

Opportunity for 24/7 access to dental providers.

Educational support for diagnostic, treatment, and preventive care.

Risk assessment

Convenience and scheduling flexibility
Patient optimism about teledentistry will increase the likelihood of patients seeking dentists who provide virtual dentistry alongside their in-office services.
Check out these teledentistry best-practice resources focused on the patient experience:
What Are the Core Best Practices for Teledentistry Success?
Optimism About Patient Perception and the Patient-Facing Benefits of Teledentistry
Refine the Patient Experience with Teledentistry
2-Teledentistry adaptation improves your collaborative relationships
Teledentistry as a collaborative best-practice has more than one application. Collaboration could be with specialists, colleagues, in-house clinicians, etc. Or it could be the collaborative relationship you have with insurance networks, online pharmacies, and medical professionals on behalf of your patients.
Virtual collaboration on the clinical front is becoming widely accepted (and preferred by some).
The online, virtual environment provides a convenient, time-saving opportunity for professional collaboration around patient care.

A dedicated teledentistry platform allows for secure communication.

Case sensitive information, charts, images, and more can be shared for educational and/or treatment purposes via teledentistry
Virtual collaboration and communication on the non-clinical front adds a layer of efficiency to your practice.
Insurance payers see teledentistry as an opportunity to expand coverage options and streamline their workflows using the virtual environment.

Patient prescription access can be virtually "bridged" with online pharmacies using teledentistry.

Pharmaceutical/product reps can save time and infringe less on your time via a virtual interaction.
Explore these teledentistry best-practice resources focused on collaborative relationships:
Virtual Mentoring, Collaboration, and More Are Possible with Teledentistry
The Benefit of Teledentistry to Online Pharmacies
How Teledentistry Can Improve Payer Network Relationships with Providers and Patients

3-Teledentistry acceleration increases your innovative opportunities
Innovation is a catalyst. Ideas tend to build upon each other.
The teledentistry environment is attracting opportunity as supportive dental services see its value.
The dental direct-to-consumer product/service industry sees teledentistry as a time-saving communication interface with dentists.

Expanded dental care and hygiene services are possible via mobile dentistry on a teledentistry platform.

Imaging capture and image sharing can happen during virtual visits using equipment/technology that synchs with teledentistry.

Dental hygienists have an opportunity to provide independent services alongside other career-pivots due to teledentistry innovations.
Discover teledentistry best-practices around innovation in these resources:
The Value of Teledentistry to the Direct-to-Consumer Dental Product and Service Industry
Expand Your Patient Care Reach with Teledentistry and Mobile Dental Opportunities
Career-Pivot Opportunities for Dental Hygienists
Support your teledentistry best-practices with a dedicated teledentistry software platform
Teledentix is an innovative, turn-key teledentistry solution created by Virtual Dental Care. The all-in-one platform will enable you to adapt teledentistry to your patient care and extend your services beyond the walls of your dental practice…and improve your patient care in the process.
Teledentix provides an

easy-to-use video conferencing tool

that's secure, HIPAA compliant, and specific to dentistry.

Teledentix Basic

is a perfect starting point. Begin with a free trial and then transition to a very low monthly fee. You and your patients can join unlimited video conferences including screen-share, file-share, video-share, and real-time chat communications.
LEARN MORE about the Teledentix platform.
[1] https://mhealthintelligence.com/news/78-of-patients-likely-to-use-virtual-dental-care-survey-finds