Virtual Dental Care will provide its comprehensive teledentistry solution, Teledentix, to Unified Smiles clients through a preferred partnership.
Unified Smiles consults with independent dental practices, providing the tools and advice needed to navigate both the business and clinical sides of the dental practice.
With new challenges introduced in the wake of COVID-19, Unified Smiles quickly realized the need for a preferred teledentistry solution to help its clients continue to engage with patients while reducing in-person interactions.
"We partnered with Virtual Dental Care because Teledentix takes much of the guesswork out of Teledentistry. With online appointment booking and a suite of management tools to compliment the virtual visit itself, our clients can efficiently add more teledentistry options for their patients," noted Guy Flannery, Unified Smiles Chief Financial Officer.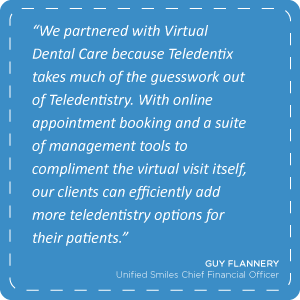 Traditional video conferencing solutions and other virtual visit tools often provide a disjointed teledentistry experience that leave patients and providers frustrated. Teledentix, on the other hand, puts patient engagement front and center so the patient feels connected to the office, even before the first video call. Online forms, appointment management, medical records, treatment planning, patient education, and instant chat all open the lines of communication with patients and providers to build better relationships without the need for in-person interactions.
"Unified Smiles understands Teledentix isn't just a quick fix to help practices during this pandemic. We created Virtual Dental Care with the vision of teledentistry becoming a commonplace for all dental professionals to help reduce barriers to care and increase patient engagement," added Richard Lee, Virtual Dental Care CEO. "We're excited to partner with such a forward-thinking organization, and we can't wait to help Unified Smiles' clients come back from this pandemic stronger than ever before."
About Virtual Dental Care and Teledentix
Teledentix, by Virtual Dental Care, is the most comprehensive teledentistry software on the market. Teledentix was built with a vision to help teledentistry become a widely used industry norm, expanding dentistry and a dentist's role beyond the walls of a dental office - even into the broader healthcare system. For more information about Teledentix, visit https://get.teledentix.com/.
About Unified Smiles
Unified Smiles works with independent dental offices in a consultative manner to support offices to achieve customized goals and continually work to optimize their practices. For more information about Unified Smiles, visit https://unifiedsmiles.com/.