There are two basic responses to a crisis or challenge. You can panic or you can adapt and evolve. What's next for teledentistry in the post-pandemic era of dentistry includes opportunity to adapt and evolve.
Teledentistry experienced an evolution during COVID-19. Now virtual dental care with teledentistry is adapting to new applications and creating innovative patient opportunities.
Teledentistry for the long-haul
The fundamentals of teledentistry follow a similar path as telehealth services. Virtual tools allow for digital/online communication to take place between you (a dental provider), your patients, colleagues, and specialist network.
As a refresher on the technology - teledentistry allows for two basic types of communication.
1-Synchronous teledentistry: real-time communication via an internet connected device (e.g. smartphone, tablet, laptop, etc)
2-

Asynchronous teledentistry

: stored and shared communication via internet capable devices for the purpose of education, follow-up, referrals, etc.
A CareQuest report highlights "four reasons why teledentistry is here to stay."
1-"States are better prepared to weather a crisis." This is good news for patient care. Regardless of societal challenges, teledentistry allows for an uninterrupted connection to dental care.
2-"Dental care is made more convenient and reduces costs to consumers and states." Underserved populations can have access to dental services at a lower cost.
3-"Oral health is improved by expanding the reach of care." Flexible care options, educational resources, and systemic disease support are available via virtual dental services.
4-"Patients are embracing it." Satisfaction is high among those who have experienced a teledentistry visit (86% indicated satisfaction and would use teledentistry again).

[1]
Those are strong waves of support for virtual dental care going forward. It's to your advantage to upgrade your current teledentistry services or join the surge of opportunity.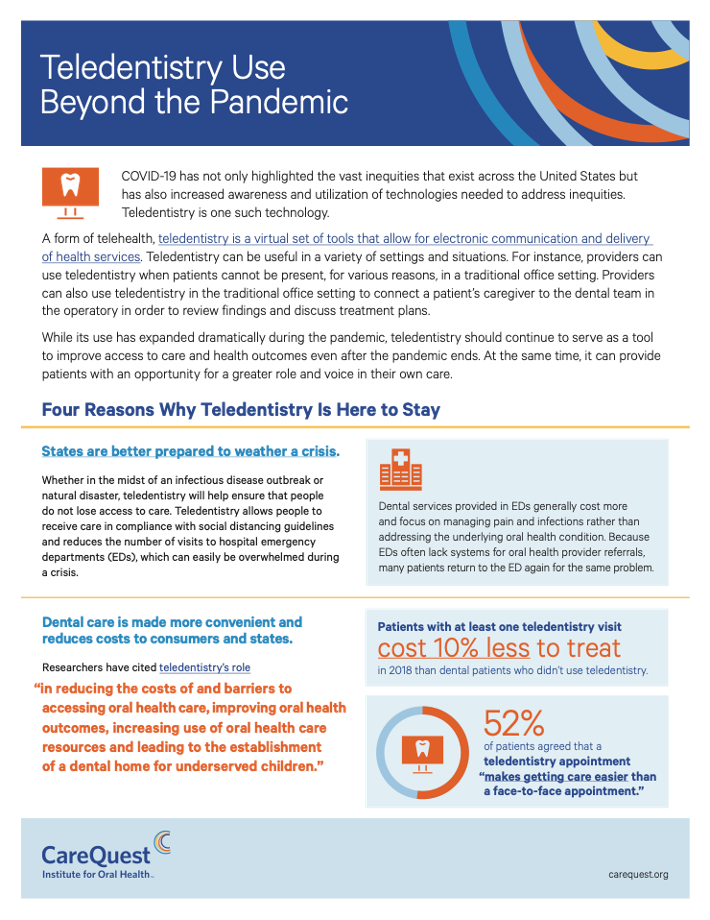 Increase the efficiency of your in-office patient visits
Most (if not all) patients carry or have access to a communication portal. Smartphones and device technology allow for easy, fluid interaction.
This has value when your patients need a consult or diagnosis but don't have the time (or need) for an in-person appointment. Such may or may not be necessary for their current condition.
Keep your schedule available for necessary in-person treatment cases.

Give patients digital access to a consultation to determine if an in-office appointment is the next step.

Consult with potential new patients to get acquainted and

establish an initial relationship

with them around their oral health prior to an in-person appointment.

Prepare virtually for a patient's in-office appointment so you can maximize their time, your time, and your team's time.
Invest in patient engagement opportunities
No doubt, opportunity exists in your current, active patient database. Each patient file represents past, present, and future production.
Consider that those on your list also come with occasional limitations - such as proximity. That raises the question: what about non-local residents or those who live in rural areas that lack access to dental care?
As earlier stated, teledentistry can eliminate barriers to care such as travel.
Connect with underserved patients in remote, rural communities.

Deploy

mobile dentistry services

(equipped with teledentistry technology) to off-site corporate settings, rural communities, schools, etc.

Provide asynchronous teledentistry education resources with a focus on preventive dentistry.

Use teledentistry for initial consultations leading to referral sources based on patient need(s).
And speaking of referrals and networking…
Increase your referral network with specialists and colleagues
Teledentistry enables you to expand your referral capacity. Proximity or location is no longer an issue.
If a patient is at a distance from your practice you can connect with them virtually. Technology can provide an opportunity to "loop-in" a colleague or specialist while saving time for your patient, you, and your professional network.
Virtual referral connections keep you engaged with your patient while helping assure they're receiving the necessary care.

Virtual partnerships via teledentistry keep you front of mind as a technology leader among specialists and colleagues.

Virtual capabilities streamline the sharing of essential patient information with colleagues, specialists, and medical professionals.
These are only the beginning of post-pandemic uses for teledentistry. Virtual dental care isn't going anywhere but forward.
Stay informed. Be innovative. And expand your care capacity with teledentistry.
Drive your innovation around teledentistry using the following resources:
How to Implement Teledentistry in Your Dental Practice
What Are the Core Best Practices for Teledentistry Success?
Innovate on a dedicated, secure, full-capacity teledentistry platform
Teledentix is an innovative, turn-key teledentistry solution created by Virtual Dental Care. The all-in-one platform will enable you to adapt teledentistry to your patient care and extend your services beyond the walls of your dental practice…and improve your patient care in the process.
Teledentix provides an

easy-to-use video conferencing tool

that's secure, HIPAA compliant, and specific to dentistry.

Teledentix Basic

is a perfect starting point. Begin with a free trial and then transition to a very low monthly fee. You and your patients can join unlimited video conferences including screen-share, file-share, video-share, and real-time chat communications.
LEARN MORE about the Teledentix platform.