Challenges create innovation. And innovative ideas can lead to trends.
As an innovation - mobile dentistry has been around for awhile. But challenges created by the pandemic has refreshed the need for a more complete guide to mobile dentistry.
What is mobile dentistry?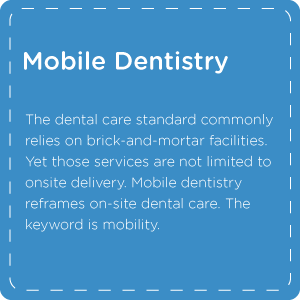 The dental care standard commonly relies on brick-and-mortar facilities. Yet those services are not limited to onsite delivery.
Mobile dentistry reframes on-site dental care. The keyword is mobility.
Picture two provider models and one innovative example of a mobile dentistry service.

1. A mobile dental clinic
This model provides dental services via a moving dental office. For example, this mode of convenience can be provided within an RV (class A recreational vehicle).
The smaller "footprint" is retro-fitted to accommodate small exam rooms and dental equipment instead of the standard living quarters layout common with an RV.
Small doesn't mean ill-equipped. A mobile dental clinic can provide basic dental services by maximizing a smaller space.
Examination and diagnostic equipment including x-ray equipment
Sterilization equipment
Computer technology for scheduling, access to patient data, and insurance claims processing
2. Mobile dental service units
This model provides an emphasis on routine dental care. The remote, portable access includes a limited amount of services.
Initial dental examinations
X-rays
Teeth cleanings
Fillings and sealants
Screenings for disease (e.g. oral cancer)
3. Innovative mobile dentistry delivery models
Some mobile dentistry providers such as Onsite Dental provide various access points to dental services for businesses, corporations, and other remote delivery locations.
Single-client Fixed Practice is a stand alone or built-out facility.
Multi-client Fixed Practice is a centrally located facility that serves multiple clients and gives exclusive access to a businesses employees, etc.
Fixed Mobile Practice provides a mobile dental practice facility on a business's campus for full-time access.
Mobile Route provides full dental services at your business location on an established schedule.
Who can benefit from mobile dentistry?
Again, the onsite capability provides flexible access to those who otherwise might postpone or avoid dental care. Schedules, lifestyle, general health conditions, health care costs, and societal challenges (such as the COVID-19 pandemic) create opportunity for mobile dentistry.
Instead of scheduling and traveling to a dental appointment…mobile dentistry allows for easy scheduling and brings the dental appointment to your patient(s).
Home dental care
This option allows patients convenient access to routine care such as an examination, check-up, and a teeth cleaning with a professional dental hygienist. Providers can give patients access via a mobile app and/or a teledentistry consultation that enables them to schedule or request a follow-up appointment.
Assisted living, retirement center, and hospice dental care
Seniors and those being treated in hospice care can receive necessary and routine dental services. Mobile dentistry allows for quality oral health care to be provided to those with or without insurance in age or treatment related circumstances.
Dental care for professionals
Mobile dentistry can be tailored to those in corporate settings. Dental services can be provided on-site for a corporation or small business at no cost to the employer or employee. And patients can utilize their dental insurance or PPO coverage.
Dental care for non-ambulatory patients
Wait times for dentistry are common for those who are undergoing medical care. Their treatment regimen can often require them to postpone dental care until they're capable of being transported to an appointment. Mobile dentistry can be provided on-location for those in non-ambulatory health situations.
On-location dental care
Wedding parties or other social groupings can benefit from mobile dentistry. Services such as teeth cleanings and teeth whitenings can be scheduled for large groups on-site at a hotel, conference facility, or home.
Concierge dentistry
Celebrities, VIPs, and others who desire to maintain privacy or convenience can utilize mobile dentistry services. Professional dental care can be catered on-site to a residence, hotel suite, or anywhere that's conducive to dental care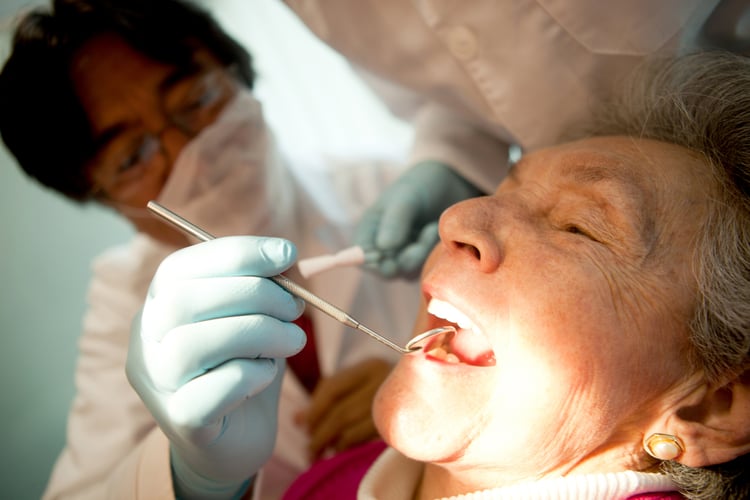 How to provide mobile dentistry services
Beyond your chosen delivery mode (as previously covered) it's essential that you're properly prepared to provide mobile dentistry services - whatever the level.
Follow state or regional guidelines for mobile dentistry
Regulations can span general dental services to dental hygiene specific services. It's best to consult with each governing board to determine how to meet their criteria.
Fees could apply state by state. And the security and availability of patient records on-site can also be subject to certain standards.
Invest in technology that enhances your patient's mobile dentistry experience
Basically, you're duplicating (on a smaller scale) the technology you would utilize within a fixed, brick-and-mortar dental practice. Keep in mind that portability is an essential part of mobile dentistry so equip yourself accordingly.
Use teledentistry for initial consults, preliminary diagnosis, scheduling, and other patient related communication.
Provide paperless, digital access to all necessary patient forms such as health histories, treatment plans, etc.
Promote your mobile dentistry services to encompass local and regional dental care needs
Individuals and groups (such as businesses and schools) that were previously mentioned become your target audience for mobile dentistry.
- Evaluate your city, region, and state to determine the best use of your mobile services.
Explore the potential of expanding your services once you have achieved a productive (mobile) workflow and your staff is onboard and efficient.
Employ a team dedicated to your mobile dentistry expansion as you promote your services and discover new opportunities (as noted).
And another word or two about technology (especially teledentistry)…
Teledentix is an innovative, turn-key teledentistry solution created by Virtual Dental Care. The all-in-one platform will enable you to adapt teledentistry to your patient care and extend your services beyond the walls of your dental practice…including your mobile dentistry strategy.
Teledentix provides an easy-to-use video conferencing tool that's secure, HIPAA compliant, and specific to dentistry.
Teledentix Basic is a perfect starting point. Begin with a free trial and then transition to a very low monthly fee. You and your patients can join unlimited video conferences including screen-share, file-share, video-share, and real-time chat communications.
Contact us about Teledentix and discover how it streamlines the interaction between you and your patient around their dental care…and mobile dentistry applications.