Because something is available doesn't mean it's functional. That would apply when choosing EHR (Electronic Health Record) technology for the mobile dentistry setting.
High-capacity platforms are common and effective for use in brick-and-mortar dental facilities. And it's recommended that you select a robust mobile capable, cloud-based platform even if the majority of your care is on-site.
If you're care environment is a most often off-site (for mobile dentistry or as an independent hygienist) you'll benefit from a scaled platform with built-in EHR capabilities.
Mobile adaptability is key
You're accustomed to having immediate access to data. Smart device technology delivers the "world" to the palm of your hand.
Even so, security and the vast amount of stored patient data have prevented some from stepping away from their in-office servers.
Cloud-based practice management platforms now provide secure, untethered access without a large hardware footprint. EHRs can be easily accessed inside and outside the office.
Adapting to the mobile environment also creates the need to scale technology so you have what you need when you need it. This is especially true for the mobile dentistry setting.
Having "what you need" equally applies to leaving behind what you don't need. An agile, yet versatile, solution will carry its weight outside the walls of a fixed facility.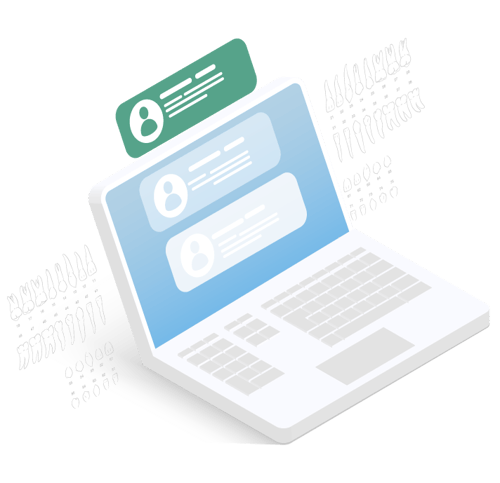 Full-capacity and mobile-centric EHR access
It's important to pack lite when carrying your dental care outside your physical location. Minimal doesn't exclude maximum capabilities.
As with in-house (brick-and-mortar) EHR access you'll want to confirm that you're equipped as a mobile dentistry provider. The following will apply to most cloud-based platforms for general, fixed practice use but should also be part of your mobile-centric EHR toolbox.
Charting access and capability
Essential clinical data should follow you to each care environment. Medical history, treatment plans, individual patient demographic data, etc can be packaged, viewed, and updated in a mobile equipped platform.
The mobile adaptation will scale the information you need into a useful and easy-to-view format. It's important that your mobile dentistry charting process doesn't feel unfamiliar but rather that it mirrors the brick-and-mortar office experience.
Teledentistry connectivity
Your ability to interact with patients and/or team members who are not present will increase care efficiency. EHR data could required the need for a consultation with a referral source or another provider.
Teledentistry capable platforms provide real time (synchronous) communication and access to stored content (asynchronous). Emergency and patient triage is also possible via a virtual connection.
Patient records connect you with their comprehensive health journey. A mobile-centric connection to EHRs allows you to have in-the-moment care collaboration with primary care physicians, specialists, and referral relationships.
Medical record updates

Test results

Emergency situations
Remote monitoring adds another layer of efficiency to care follow-up. You can also access vital health information if it's necessary to intervene on the patient's behalf.
The mobile dentistry environment relies on EHRs as does the brick-and-mortar dental practice environment. Technology innovation serves both.
The following resources will give you specific insight into the tools that are specific to mobile dental care:
Common FAQs About Mobile Dentistry Software
Top Mobile Dental Equipment Solutions for 2021 (and Beyond)
An Overview and Guide to Mobile Dentistry
If you're taking your dental care to the mobile dentistry environment…equip yourself with the technology that uniquely supports it.
Teledentistry and mobile service delivery on platform such as Teledentix improves overall care delivery - including EHR access. Plus many of the features covered here are built-into the Teledentix software.
Get a personalized demo of Teledentix!