It's interesting how necessity creates new norms. That applies to the growing interest in teledentistry and why it's essential to consider how to market and promote your teledentistry services.
You might still be toying with the idea of adding virtual visits to your dental practice or DSO. If so, you'll join the surge of dental providers who are already seeing the benefits.
Teledentistry adoption is leveling but remains above pre-COVID interest.
Teledentistry has increasing value beyond the pandemic.
Teledentistry use (according to Delta Dental) by a California group showed 30 times as many synchronous (real-time) appointments and 10 times as many asynchronous (stored/shared) appointments in 2020.

[1]
Oral Health Group sees a post-pandemic future for teledentistry.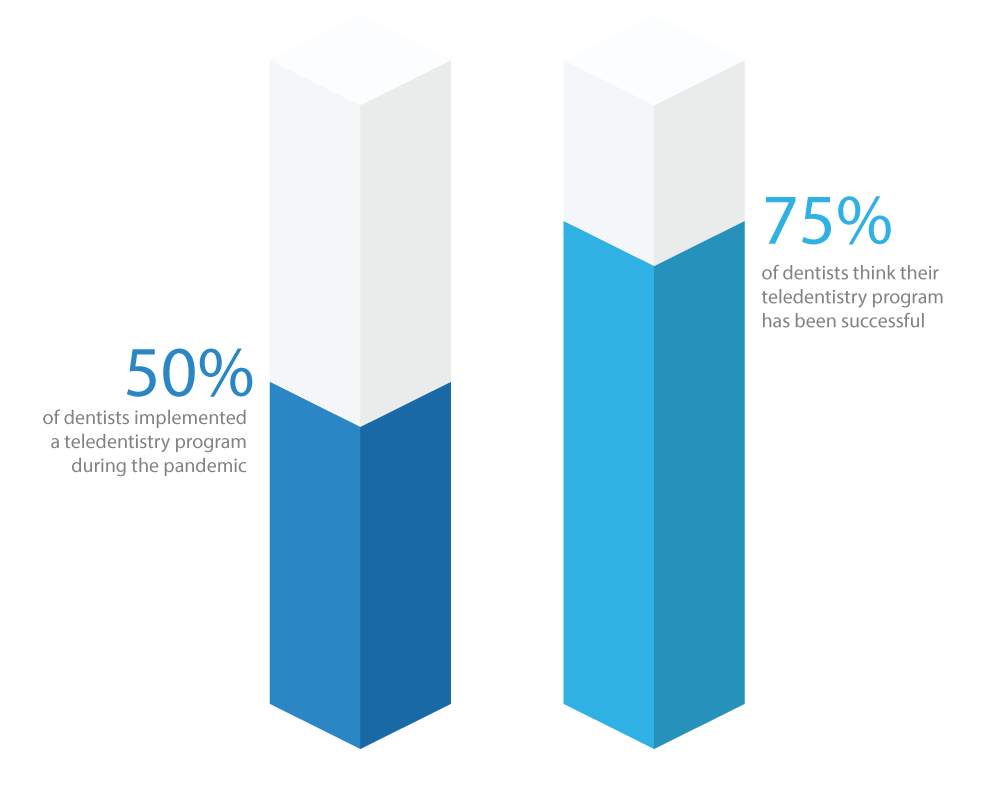 50% of dentists implemented a teledentistry program during the pandemic

75% of dentists think their teledentistry program has been successful

46% percent of dentists plan to continue their teledentistry program post-pandemic

[2]
This is good news if you desire to ride the virtual dental care wave. But your energy for teledentistry requires communicating its value to your patients.
Teledentistry: what's in-it for your patients (and you)?
Patient-centric innovation - whatever the mode - helps patients improve their oral health. That goal aligns with teledentistry and the virtual dental care environment.
Primary access to dental care
Some patients, such as those in remote or rural areas, lack access to dental care. The same applies to those with disabilities or those who for perceived safety reasons choose not to risk a visit to a dental office.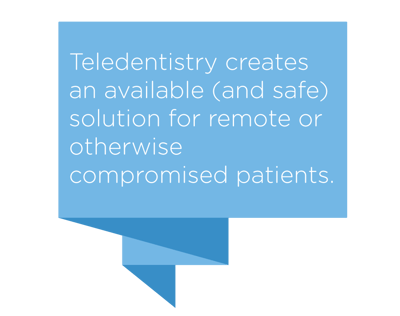 Teledentistry creates an available (and safe) solution for remote or otherwise compromised patients.
Convenient access to dental care
It's common for patients to postpone, delay, or avoid a dental visit because of their schedule. Work, time issues, and general busyness create inconvenient barriers to care.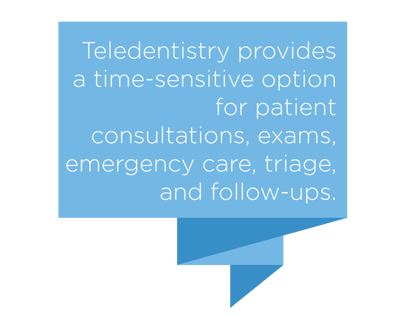 Teledentistry provides a time-sensitive option for patient consultations, exams, emergency care, triage, and follow-ups.
Efficient provision of dental care
As a dentist, your in-office schedule is limited to available appointment "blocks." Pushing a patient appointment out to a future date could impact their health and/or their connection to your practice.
Teledentistry adds another layer to your schedule without requiring an available "chair," in-office form completion, and pre-appointment details (e.g. image reviews, procedure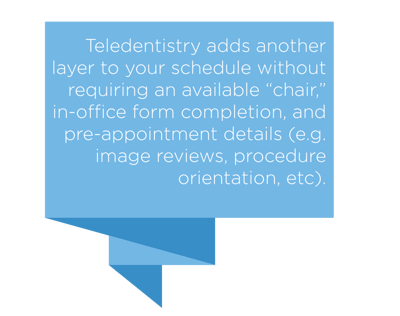 orientation, etc).
Access, convenience, and improved in-office efficiency are core benefits of teledentistry. It's essential that your patients know they have another option for their dental care.
And that's why you must be strategic about marketing your teledentistry services.
Three compelling strategies for marketing your teledentistry services
1. Showcase teledentistry on your dental practice website
You can dabble in teledentistry here and there. But assigning it a visible place on your website will up-your-game.
Peak your patient's and site-visitor's curiosity by adding it to your primary navigation menu. Front-and-center visibility will increase the potential for a visitor to click and explore your virtual care solutions.
Here are few digital ideas to make the most of your site's teledentistry portal.
Create a general information page that explains what teledentistry and virtual dental care is.

Design a downloadable infographic that shows what a teledentistry visit looks like from start to finish.

Explain how to access teledentistry via a personal computer or mobile device.

Highlight the security of your teledentistry platform and its required compliance (e.g. HIPAA).

Create a detailed FAQ page that covers the gamut of questions your patients/site visitors would ask about virtual visits.

Provide an online form for patients/visitors to request a teledentistry appointment and/or get more information about virtual visits.
2. Use content marketing to answer common teledentistry questions and concerns
Search results for teledentistry are on the rise. You'll want to be in a position to benefit from related searches.
Teledentistry themed (and keyword focused) content on your dental practice's blog page and social media channels is essential to maximizing SEO around the service.
Listen to patient questions about teledentistry and create content that answers those questions/concerns.

Curate teledentistry content and share it on your social media channels (along with your themed content).

Create (brief) engaging and informative videos, posts/articles, and podcasts around teledentistry solutions for dental care.

Feature teledentistry as a care option via the signature portion of your patient emails, in your patient text messages, and in your direct mail promotions.
3. Share (with permission) dental patient reviews about their teledentistry experience
Real-life perspective can help an on-the-fence patient decide to give teledentistry a try. Patient reviews provide user-based insight into what they can expect, how a virtual visit works, and their overall experience.
Social proof is a strong point of reference for today's consumers. Your dental patients will not only hear about teledentistry's benefits from you, they will hear from others about the service's time savings and ease of use.
Ask patients to share their positive teledentistry experiences following a virtual visit.

Obtain their permission to use their comments/testimonial in your related promotions and on your social media channels.

Invite patients to share their teledentistry experience in a video or audio format.

Survey patients following a virtual visit to learn how you can improve and refine your teledentistry services.
The more patients know about teledentistry benefits the more curious they will become. Create a buzz-worthy virtual dental care environment and you'll give patients a compelling reason to use it.
Explore these resources for increased insight into the optimism around teledentistry and marketing its patient benefits:
3 Phases of Teledentistry Best-Practices for 2022
5 Simple Ways to Promote Teledentistry in Your Dental Practice
Build a compelling virtual dental care "story" using a proven teledentistry software platform
Teledentix is an innovative, turn-key teledentistry solution created by Virtual Dental Care. The all-in-one platform will enable you to adapt teledentistry to your patient care and extend your services beyond the walls of your dental practice…and improve your patient care in the process.
Teledentix provides an

easy-to-use video conferencing tool

that's secure, HIPAA compliant, and specific to dentistry.

Teledentix Basic

is a perfect starting point. Begin with a free trial and then transition to a very low monthly fee. You and your patients can join unlimited video conferences including screen-share, file-share, video-share, and real-time chat communications.
LEARN MORE about the Teledentix platform.
[1] https://www.cardinaldigitalmarketing.com/blog/teledentistry-marketing-best-practices/
[2] https://www.cardinaldigitalmarketing.com/blog/teledentistry-marketing-best-practices/