Coverage. That's a big issue on the minds of patients and dental care providers. It also applies to the relationship between teledentistry and dental insurance providers.
Of course, most patients want to know if their insurance plan covers dental care. And how much out-of-pocket costs they can expect.
Add teledentistry to the mix and their questions could multiply regarding coverage.
And here we are…
Teledentistry somewhat flew-under-the-radar since the early 2000s. The COVID-19 pandemic increased its visibility and usage beginning in 2020.
Teledentistry is recognized as:
A "safer" and comfortable alternative to in-person dental visits.
A convient option for dental consultations and specialist referrals.
A more time and cost efficient solution for dental emergencies and emergency triage.
An opportunity to provide remote education and resources to patients.
A secure and timely portal to share health records and images.
These basic solutions paved the way for innovation around the broader virtual dental care environment. Teledentistry services are now more enticing to patients, dental providers, and insurance payers.
But is it covered?
The primary answer is - Yes! Demand and ongoing innovation is helping awaken insurance providers to the patient and provider-centric benefits of teledentistry.
Still, insurance coverage for teledentistry services relies on three factors:
State laws and guidelines
Insurance provider requirements
Patient policy allowances
Some flexibility has evolved around state guidelines for teledentistry due to the surge of usage during and post COVID-19. Laws vary from being "extensive" to "non-existent." [1]
There's also the variance between what private payers and state medicare programs will reimburse. Again, this is a state by state issue. [2]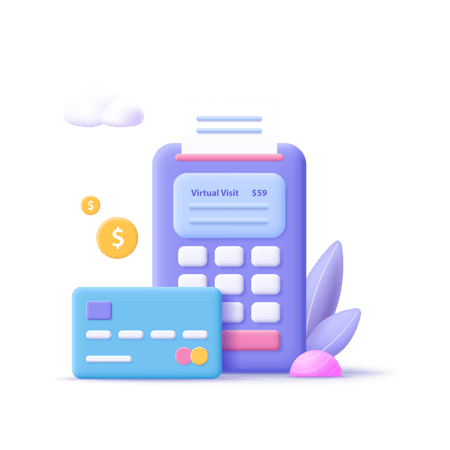 "Lawmakers go to a great extent in defining elements of reimbursement including, but not limited to matters like payment parity laws. This law requires insurers to pay for telehealth at the same rate as in-person services, and exists in some states, but not others." [3]
Payment parity laws (a much broader topic) tend to revolve around these factors:
Effort required by telehealth/teledentistry services vs. in-person services.

Value of care provided by telehealth/teledentistry vs. in-person.

Care provider costs for telehealth/teledentistry vs. in-person.

Potential for telehealth/teledentistry overuse.

[4]
On a more proactive note here's a short-list of insurance providers, their coverage details, and links relative to teledentistry.
Medicare
Live (Synchronous) video: Yes

Store and forward (

Asynchronous

) video: Yes

Remote patient monitoring: Yes (with limitations)

Full details

here
Delta Dental
Plans determine the scope of teledentistry services.

Get details

here
United Healthcare Dental
Service eligibility details can be explored

here
Blue Cross Blue Shield
Explore teledentistry service details

here
Humana
Full teledentistry service details are available

here
Going a step further
Humana is among insurance providers who see the value in virtual dental care - including teledentistry.
Humana provides software that connects patients virtually using the dedicated Teledentix platform. According to Teledentix, Humana members can:
Launch an on-demand virtual visit with an in-network dentist.

Get answers to any dental related question.

Access

triage for a dental emergency

.

Obtain a second opinion.
The Teledentix virtual dental care and insurance payer solutions (recognized by Humana) are strong examples of what's possible in this new era of teledentistry.
Less ER usage: 24/7 access is a cost-effective and convenient alternative.

Better care access: rural and under-served areas can receive anytime-anywhere dental care access.

Reduced out-of-pocket costs for members: Humana members can use teledentistry with $0 copay, no limit visits, no travel costs or time away from work, school, etc.

[5]
Insurance coverage is a significant patient expectation when considering teledentistry. The following resources can help you align their expectations with available teledentistry benefits:
Teledentistry or In-Person Dental Visits: Where Do Insurance Reimbursements Apply?
How Teledentistry Can Improve Payer Network Relationships with Providers and Patients
Provide your patients a virtual dental care solution on a dedicated, secure, and full-function teledentistry platform
Teledentix is an innovative, turn-key teledentistry solution created by Virtual Dental Care. The all-in-one platform will enable you to adapt teledentistry to your patient care and extend your services beyond the walls of your dental practice…and improve your patient care in the process.
Teledentix provides an

easy-to-use video conferencing tool

that's secure, HIPAA compliant, and specific to dentistry.

Teledentix Basic

is a perfect starting point. Begin with a free trial and then transition to a very low monthly fee. You and your patients can join unlimited video conferences including screen-share, file-share, video-share, and real-time chat communications.
LEARN MORE about the Teledentix platform.
[1] https://mconsent.net/blog/teledentistry-and-insurance-coverage-coding/
[2] https://mconsent.net/blog/teledentistry-and-insurance-coverage-coding/
[3] https://mconsent.net/blog/teledentistry-and-insurance-coverage-coding/
[4] https://mconsent.net/blog/teledentistry-and-insurance-coverage-coding/
[5] https://www.ahip.org/news/articles/yes-teledentistry-is-real-and-it-means-more-access-to-care