Virtual Dental Care (VDC), the company behind the highest-rated mobile and teledentistry software, Teledentix, recently announced its extension of its software grant program, Teledentix Cares.
Virtual Dental Care launched its innovative software solution, Teledentix, in 2016 to give dental providers and outreach programs the tools needed to operate more efficiently. By combining clinical workflows, patient engagement tools, and teledentistry tools, Teledentix helps increase patient capacity and while reducing the overall cost of treatment.
In 2020, Virtual Dental Care began Teledentix Cares, a grant program aimed at getting Teledentix in organizations that are helping bridge the gap in oral health. Teledentix Cares applicants are evaluated on the impact they have on their community which include safety net providers, nonprofits, schools, and independent mobile hygiene programs.
Overwhelmingly positive feedback from past grant awardees has prompted Virtual Dental Care to extend Teledentix Cares in its continued effort to help make dentistry more accessible and more affordable for the underserved.
Community Health Services, Inc. (CHS) a nonprofit community health clinic in Aspen, Colorado, was awarded Teledentix Cares in late 2020 for its mobile dental outreach and teleOralhealth programs that deliver onsite and virtual dental care to schools, senior centers, and expecting mothers.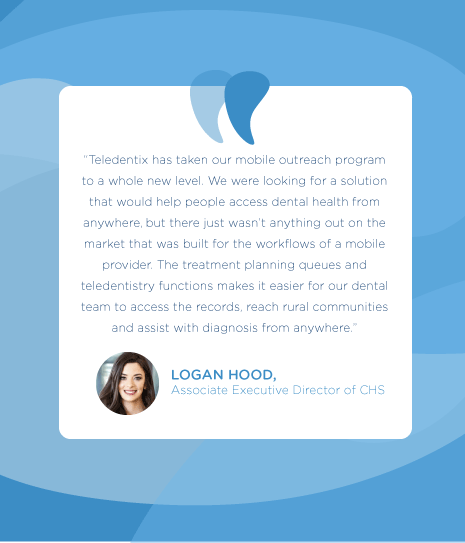 "Teledentix has taken our mobile outreach program to a whole new level," said Logan Hood, Associate Executive Director of CHS. "We were looking for a solution that would help people access dental health from anywhere, but there just wasn't anything out on the market that was built for the workflows of a mobile provider. The treatment planning queues and teledentistry functions makes it easier for our dental team to access the records, reach rural communities and assist with diagnosis from anywhere."
Delta Dental of Colorado featured CHS and its implementation of Teledentix in a recent article, Advancing children's oral health through innovation. The article discusses CHS's teledentistry pre-screening process using Teledentix. "[CHS] completes an oral health screening over any mobile device [and] talk with you about concerns such as brushing and flossing, bottles and sippy cups, healthy foods, and how to prevent cavities. It's incredibly convenient, comfortable, efficient, free, informational, personalized, and it increases access to preventive oral health services."
Kelly Keeffe, CHS dental program manager says "Teledentix has allowed CHS to deliver hygienist-led oral health education, motivational interviewing, oral screening and a referral to a dental home as a viable method to increase access to care and empower families with the tools to prevent disease."
Another grant awardee, the Global Foundation for Dental Healthcare and Awareness, Inc. (GFDHA), based in Decatur, Georgia, provides both preventative and restorative services via pop-up operatories at various venues. GFDHA also administers an outreach program in Africa, with its second headquarters in Ghana.
Felicia Williams, RDH and GFDHA founder noted, "We were thrilled and honored to receive the Teledentix Cares software grant and would highly recommend applying if you are providing treatment to underserved communities."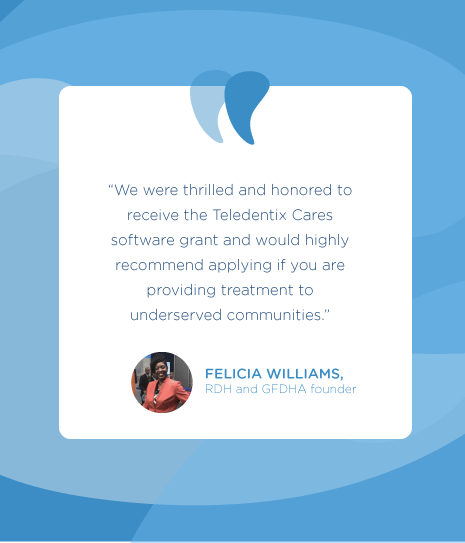 About Virtual Dental Care, Inc. and Teledentix
Teledentix is an extensive telehealth communication solution utilized in various ways by different industry players. At its core, Teledentix incorporates telecommunication tools (live video, recorded video, chat, text, email, image and document uploads, etc.) into a secure environment (HIPAA-complaint, HIGHTRUST, SOC2, penetration tested). Its integrated modular design allows for multiple use-case options. Modules include consultation network management, patient engagement tools, peer-to-peer record collaboration, and much more. For more information about Teledentix, visit https://get.teledentix.com/.
About Community Health Services, Inc.
Community Health Services, Inc. is a private, non-profit organization that provides preventive health services to the residents, workers and visitors of Pitkin County and the Roaring Fork Valley. CHS oral health programs include Smiles for Students, Smiles for Seniors, and Bright Start Smiles, a prevention program for young children and expecting mothers.
About the Global Foundation for Dental Healthcare and Awareness, Inc.
Founded in 2016, GFDHA began by partnering with Homeless Shelters, Title I Public Schools and Long-Term Care Facilitates providing free dental care in Atlanta, Georgia. GFDHA's mission is to educate underserved populations on the Mouth & body connections and provide free medical and dental treatment to reduce oral and overall health disparities around the world. Learn more at https://gfdha.org/.
Source: https://blog.deltadentalco.com/2021/02/advancing-childrens-oral-health-through-innovation/