It's likely you cannot remember when technology (in some form) wasn't used during an oral surgery procedure. Whatever the form of technology it ultimately streamlines your patient care.
The days as virtual appointments are on the rise many disciplines of dentistry are adapting teledentistry to their patient experience- more specifically teledentistry for oral surgeons.
How did we get here?
Care access is what drives patient health and likewise a dental clinic's production. That preferable scenario has been lacking on occasion as noted by the American Dental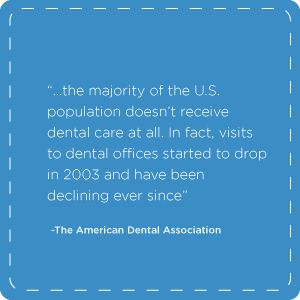 Association (ADA):
"…the majority of the U.S. population doesn't receive dental care at all. In fact, visits to dental offices started to drop in 2003 and have been declining ever since."
Second to that reality is the lack of dental insurance for a number of Americans. In fact, a full 40% of Americans do not have adequate dental insurance coverage.
These two scenarios cause dental services such as oral surgery to be postponed or cancelled altogether.
How teledentistry is shifting the trend
The ADA has defined teledentistry and its usage parameters:
"Telehealth refers to a broad variety of technologies and tactics to deliver virtual medical, health, and education services. Telehealth is not a specific service, but a collection of means to enhance care and education delivery."
This general definition and related guidelines has opened new pathways for teledentistry - including its use by oral surgeons.
Applications in teledentistry for oral surgeons
As with other dental services, the core of teledentistry is your patient. While convenience and workflows are improved for you as a dental professional teledentistry creates new and better ways to connect your patients with necessary oral surgery solutions.
Of course, the technology itself does not provide what your patient ultimately needs - a surgical procedure. But it reduces the amount of time required for in-office consultations, reviewing health information, etc ahead of whatever treatment is required.
Teledentistry:
Gives you direct, real-time oversight of patient care as a licensed oral surgeon
Provides safe, secure, and easy access to your specific expertise related to surgical procedures
Enhances the collaborative relationship between you (the oral surgeon) and referrals from a general dentist, a dental specialist, or other healthcare providers.
The remote capabilities of teledentistry increases your access to not only referrals but also time saved via virtual consultations.
More and more states are coming online with teledentistry. And that's creating new opportunities for patients and those, like you, who provide essential oral surgery.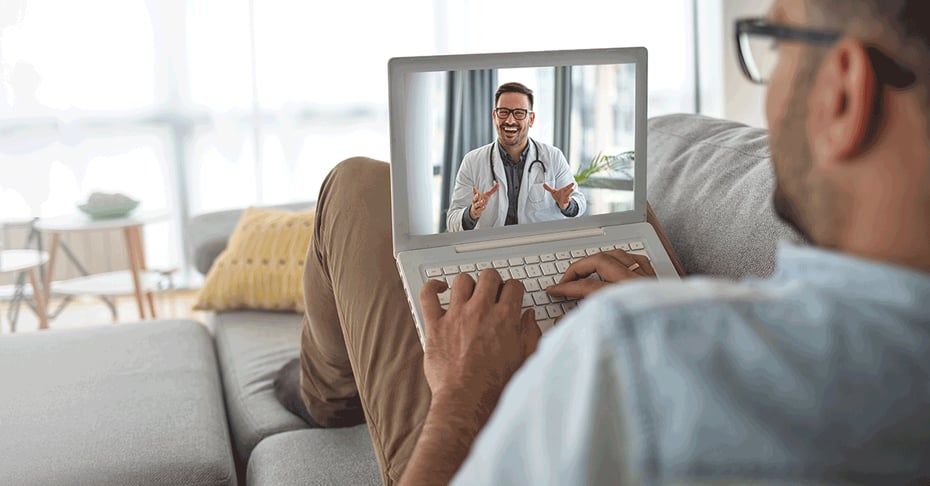 How teledentistry for oral surgeons works
Teledentistry's patient-facing applications will be similar across most dental services. As earlier stated, the key benefit is providing your patients safe, secure, and convenient access to your oral surgery expertise.
Virtual consultations
With teledentistry you can connect with your patients via a remote, virtual platform. The remote appointment allows you to consult and potentially diagnose conditions that would eventually require an oral surgery procedure. It's vital to use dedicated teledentistry technology instead of common third-party apps like FaceTime, Zoom, Skype, or Google Meet.
View digital images and related diagnostic information
Digital images can be easily shared via a secure teledentistry portal. Your remote access or sharing of these images can enhance referral consults and give your patient real-time viewing guided by your expertise.
Online appointment scheduling and related communication
Access to your oral surgery services can be more convenient via teledentistry. The increase in digital communication provides a time savings for your patients and a workflow enhancement for your clinic.
77% of patients ranked the ability to book online as a key factor in choosing a healthcare provider
64% of healthcare appointments were booked online by the end of 2019
Patients are drawn to convenient, efficient, and safe healthcare solutions that include common interactions with you as their provider.
Appointment scheduling
Online chat
Digital delivery and access to forms and information
Education and informational content
Online, secure access to health records
Reference and review patient treatment information pre and post procedure

Teledentistry for oral surgeons made easier (and cost effective)
A dedicated teledentistry platform such as Teledentix is giving patients access to this new form of care. Organic online scheduling is creating new ways to obtain dental treatment - including oral surgery.
Virtual patient portals like Teledentix are making this possible and increasing innovative care options.
Easier patient access makes the patient experience easier for you as the provider. And Teledentix gives you a variety of virtual patient care solutions to accomplish that. - Email patients to communicate availability of online booking for teledentistry.
Patients can begin by completing digital forms or continuing to appointment booking.
Available appointment types can be configured and accessed noting fees, etc. Your patients can create a secure patient portal where they can manage their appointments and much more.
The patient portal gives them access to appointment specifics and more such as date, time, adding it to their personal calendar, cancellation, etc.
Chat feature allows your patient to ask questions and send attachments or photos.
Progress notes can be added by you (the provider) for patients to review. And forms can be accessed and updated by your patient anytime.
Forms can be added by your office giving patients access to new required information.
Educational resources can be applied by you to the patient "education" tab. FAQs or any type of document can be added to their portal for viewing.
The records tab gives your patient a place to provide any new or updated information relevant to their care. This could include intraoral images or previous x-rays.
The media center gives you (as the provider) the opportunity to share multiple educational resources with your patients.
Treatment plans can also be accessed in their patient portal. Their access gives them hands-on perspective to the status of their treatment and upcoming procedures.
Teledentix is an innovative, turn-key teledentistry solution created by Virtual Dental Care. The all-in-one platform will enable you to adapt teledentistry to your patient care and extend your services beyond the walls of your dental practice…also to patients requiring orthodontics.
Teledentix provides an easy-to-use video conferencing tool that's secure, HIPAA compliant, and specific to dentistry.
Teledentix Basic is a perfect starting point. Begin with a free trial and then transition to a very low monthly fee. You and your patients can join unlimited video conferences including screen-share, file-share, video-share, and real-time chat communications.
Contact us about Teledentix and discover how it streamlines the interaction between you and your patient around their oral surgery procedures.