Teledentistry Use-Case: Referrals and Collaboration
Teledentistry offers the possibility of taking peer-to-peer collaboration to the next level.
Below is a fictional story of the use of a combination of synchronous and asynchronous teledentistry communication might work.
GP to Periodontist referral using Teledentistry
Dr. Sharon Chung, a periodontist, received notification that one of her referring GPs had shared some type of information about a patient in her secure teledentistry software. She followed the link in the email and opened the file. Dr. Tom Horry had recorded a short video. She was also able to view a copy of a somewhat outdated patient registration form and 2 images of perio charts, dated about one year apart.
"Sharon, I'm referring Janice Nguyen to you. She's been a patient of mine for a number of years. She came in regularly for cleanings and exams. She missed her last 6-month recall. So, it's been a year since I've seen her. You'll see from the chartings the dramatic increase in pocket depths. I don't think that going without a cleaning for 6 months justifies it. I have no good explanation. After you see her, maybe you can give me your thoughts. Thanks."
After the initial appointment to gather diagnostic records, Dr. Chung scheduled a video conference with the patient for case presentation. Using her teledentistry software, she also invited Dr. Horry to participate. In addition, she told Ms. Nguyen that this was a very interesting case, and could she share with her study club? Ms. Nguyen agreed.
After the secure video conference, using her teledentistry software, it was agreed that surgery was the best alternative, and it was scheduled.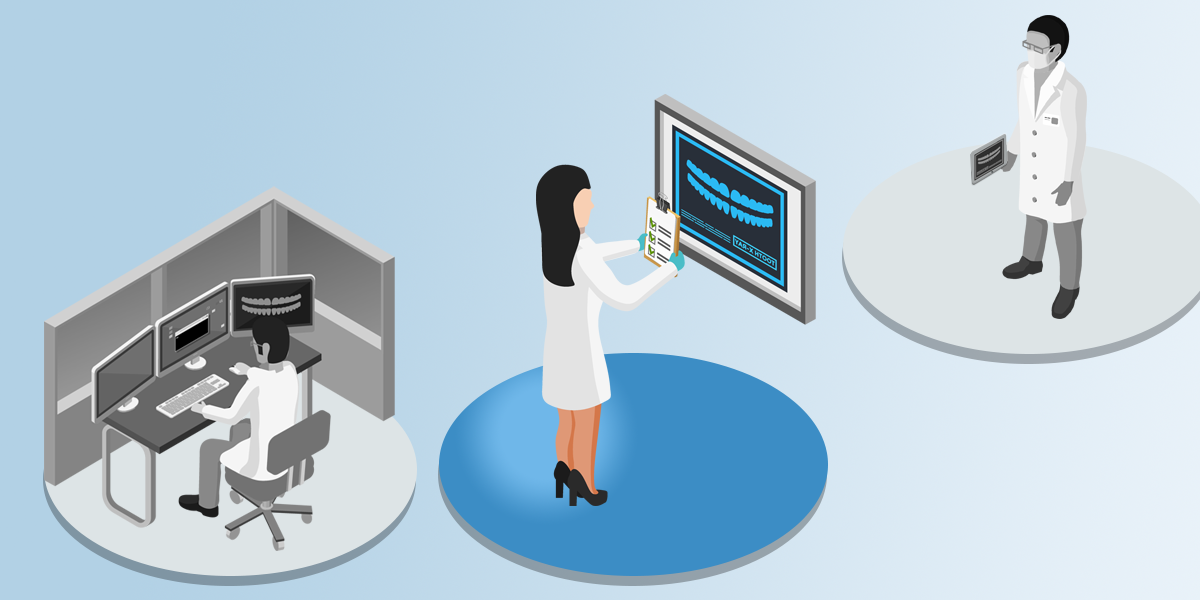 Teledentistry for virtual study clubs
Dr. Chung uploaded the diagnostic records into her secure teledentistry software and invited her study club members to view the records. The software allows the members to comment and/or ask questions. She also invited the study club members to a live-streaming video conference for one week later. Eight members of the study club attended, during which Dr. Chung discussed the case and proposed treatment, reviewed the comments, and answered the questions.
The surgery was filmed placed in the case file. Post-surgical records were subsequently posted. The teledentistry software automatically notified all study club members that the file had been updated. The notification contained a link to the software application. As before, the study club members posted comments and questions.
Not every member of the study club was a subscriber to the teledentistry software, but because each one had been invited by Dr. Chung, they are able to view and interact with anything posted by Dr. Chung.
While this story is fictional, the capability to replicate it is available today. Good teledentistry software should be able to support each of the components described. Conversely, any teledentistry software that cannot support these functions must be viewed as a compromise.
Interested in other Teledentistry use-cases?