Catawba

Valley

School of

Dental

Hygiene

Selects Teledentix

with Grant Awarded by the

North C

arolina Oral Health Collaborative
Catawba Valley Community College's (CVCC) Department of Dental Hygiene recently selected Teledentix Enterprise to help manage patient engagement, appointment bookings, and virtual screenings.
Funding for CVCC's teledentistry program was awarded by the North Carolina Oral Health Collaborative (NCOHC), a program of the Foundation for Health Leadership and Innovation. NCOHC's mission aims to reduce barriers to oral healthcare for North Carolinians.
NCOHC introduced its teledentistry initiative earlier this year in conjunction with the Blue Cross Blue Shield of North Carolina Foundation, providing $60,000 for North Carolina dental safety-net organizations to offer remote care services via teledentistry technology.
Crystal Adams, CVCC's Head of Dental Hygiene, needed a solution to run a hybrid approach to the school's dental hygiene training program. In other words, Adams was looking for a way for patients to have a combination of virtual visits and in-office visits, especially as stricter infection control protocols have made it more expensive for in-person, patient-to-provider interactions.
While other solutions on the marketplace certainly had synchronous – or live – videoconferencing capabilities, Adams quickly realized the hygiene students and their patients needed a cloud-based system that could manage the entire patient journey, not just the virtual visit.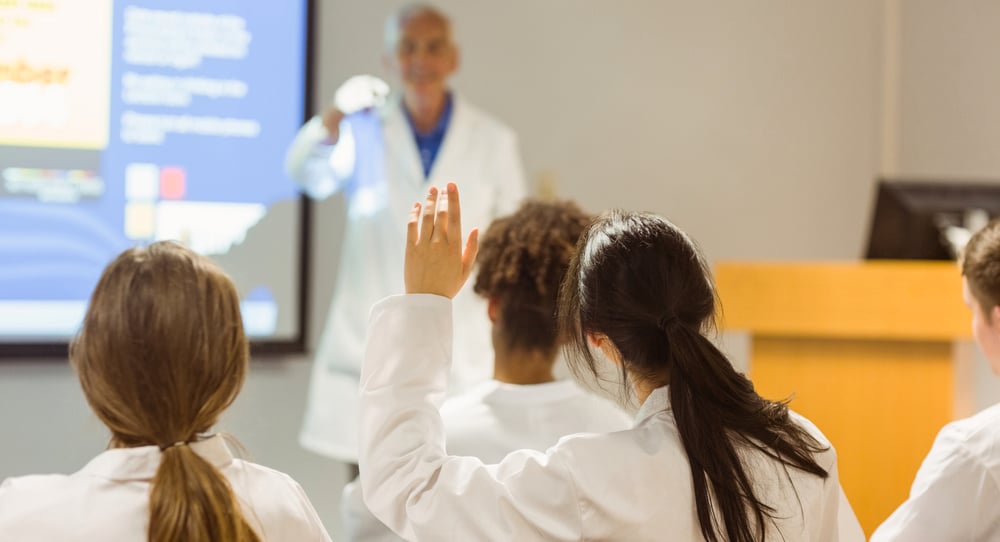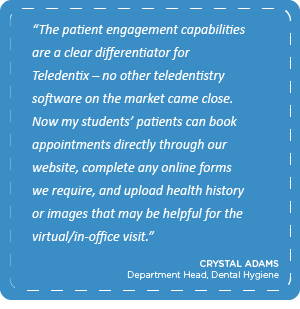 "The patient engagement capabilities are a clear differentiator for Teledentix – no other teledentistry software on the market came close. Now my students' patients can book appointments directly through our website, complete any online forms we require, and upload health history or images that may be helpful for the virtual/in-office visit," noted Adams.
With schools across the country partially or completely restricting in-person instruction, Teledentix will allow the CVCC hygiene students to continue communicating and interacting with their patients. Teledentix networking capabilities will also give CVCC hygiene students and instructors the ability to refer patients to other providers, share secure patient records, and host virtual study groups.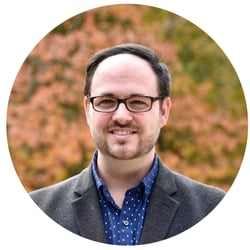 NCOHC's Program Director, Dr. Zachary Brian, added "We're thrilled with Crystal's choice to use the teledentistry grant for Teledentix Enterprise. The ability for the hygiene students to review all health history and have virtual consultations before the visit will greatly reduce in-person interactions while lowering the overall barriers to care."
Dr. Brain plans to showcase CVCC's dental hygiene program as a positive role model for other academic organizations looking to add teledentistry to their offering. Both CVCC and NCOHC do not just see teledentistry as an interim solution during this time of social distancing, but rather a long-term solution to ultimately bridge the gap in oral care for North Carolina and the rest of the United States.
---

About Virtual Dental Care and Teledentix
Teledentix, by Virtual Dental Care, is the most comprehensive teledentistry software on the market. Teledentix was built with a vision to help teledentistry become a widely used industry norm, expanding dentistry and a dentist's role beyond the walls of a dental office - even into the broader healthcare system. For more information about Teledentix, visit https://get.teledentix.com/.

About

Ca

tawba

Valley Community

College
Founded in 1958, Catawba Valley Community College is a comprehensive learning community that provides a multitude of collegiate, industrial/vocational, and life-skills/personal enrichment experiences. With a robust Dental Hygiene department, students gain the knowledge and skills to assess, plan, implement, and evaluate dental hygiene care for the individual and the community. Learn more at http://www.cvcc.edu/.

About

the North Carolina Oral Health Collaborative
The North Carolina Oral Health Collaborative seeks to resolve consumer-level and systemic barriers to good oral health and accelerate the implementation of policies that reduce oral health disparities. With an approach, sustained in evidence-based strategies, the NCOHC places community at the center of its change agenda. For more information about North Carolina Oral Health Collaborative, visit https://oralhealthnc.org/.