Is it possible to think beyond 2020 and COVID-19? Dental trends for 2021 say "Yes," although you're likely to carry a few innovations forward such as teledentistry.
Virtual visits including tele-health and teledentistry were an option prior to 2020. But the pandemic has vaulted it to what's now being considered a must-have patient care solution.
Riding the wave of change into the future
Teledentisty has had over a decade to gain ground. It's joined the broader telehealth culture as an emerging patient care solution.
"The use of telehealth services was projected to increase from 250,000 patients in 2013 to an estimated 3.2 million patients in 2018, according to the American Teledentistry Association (ATA). Some dental experts have been expecting teledentistry to make its mark in private practices for years, but most dentists didn't embrace it until they had no choice."
More state dental boards are approving teledentistry alongside the ADA's (American Dental Association) coding specifics to align with insurance providers.
It's now at more of a "tipping-point" as a patient-facing solution for initial consultations, diagnosis, and the new, expanding territory of mobile dentistry.

Three teledentistry opportunities joining dental trends for 2021
1. Acceptance of teledentistry by dental insurance providers is creating new options for patients
The season for open insurance enrollment will likely see more patients acquainted with teledentistry as part of their benefit provisions.
Patients are recognizing the value of teledentistry for emergency situations. It's a comfort knowing they can avoid an emergency room visit to diagnose dental pain when necessary.
Access to teledentistry as part of your patient's insurance benefits is encouraging those who might not otherwise take advantage of their coverage. And for patients either anxious about an in-person visit or who lack timely scheduling options - teledentistry is a major benefit.
2. Patient "triage" is expanded with teledentistry
Patient evaluations prior to necessary or recommended treatment is now more widely possible when you provide teledentistry. There are limitations of course…but it's creating new paths for patient triage.
Many patients have become accustomed to off-site consultations due to being more comfortable with "sheltering in place." Current patients appreciate the added peace of being able to remotely access your expertise about a dental issue instead of or prior to a secondary in-office appointment.
New patient appeal is also common. Dental practices equipped with dedicated, secure teledentistry portals and who promote them on their website can increase their patient-base.
Screen patients before they enter your dental office (as a pandemic protocol recommended by the Centers for Disease Control).

Utilize synchronous (real-time) teledentistry for consults with patients,

engaging with new patients

, and providing initial diagnosis ahead of a potential in-office visit.

Consult with patients asynchronously

(stored-and-forwarded information - not real-time). Patient information provided digitally prior to a a virtual appointment allows them to access your expertise (or that of a specialist referral) on their schedule.
3. Mobile and expanded care hours using teledentistry technology
A dedicated teledentistry platform allows you to supervise off-site patient care. For example, a dental hygienist providing mobile dentistry at a portable or satellite location can collaborate with you on a patient's care.
Maximize your team efficiency and provide hygienists another patient-facing opportunity to utilize their skills alongside yours (the dentist) or a specialist.
Expand available care hours without being on-site. Dedicated, secure teledentistry technology allows you to schedule virtual visits (synchronously or asynchronously) on days/hours convenient for your patients (e.g. weekends, etc).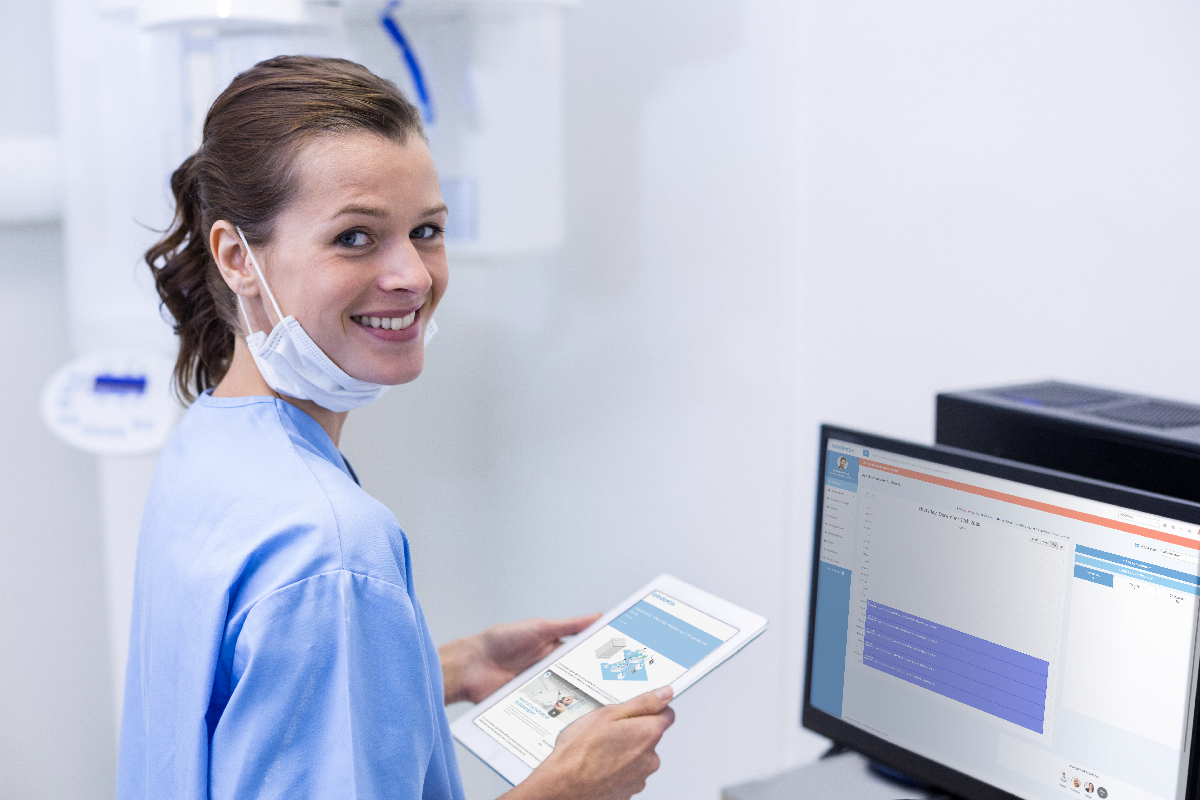 A patient-facing solution aligned with dental trends for 2021 (and beyond)
The overall solutions within a dedicated teledentistry platform enable you to fully maximize your virtual patient interactions…leading to better patient care! And that's a trend that will remain for years to come.
Speaking of "trends" - access the following resource for front-line insights into how teledentistry is evolving as a patient-care solution:
Teledentistry: Where We Are Now and Where We are Going
Teledentix is an innovative, turn-key teledentistry solution created by Virtual Dental Care. The all-in-one platform will enable you to adapt teledentistry to your patient care and extend your services beyond the walls of your dental practice…and improve your patient care in the process.
Teledentix provides an

easy-to-use video conferencing tool

that's secure, HIPAA compliant, and specific to dentistry.

Teledentix Basic

is a perfect starting point. Begin with a free trial and then transition to a very low monthly fee. You and your patients can join unlimited video conferences including screen-share, file-share, video-share, and real-time chat communications.
Contact us about Teledentix and discover how it streamlines the interaction between you and your patient around their dental care.